Reset CME UF 80 Classic MIDI Controller
|
Last Updated on June 18, 2022 by Nick
Undoubtedly the most attractive looking UF keyboard so far, the Classic series has an all-black finish, with the end pieces finished in tough black shellac – just like a traditional piano. The CME UF80 Classic puts a powerhouse of controls under your fingertips, in the way of 88 aftertouch-equipped hammer-action weighted keys, eight assignable control knobs, nine assignable control faders, and even transport controls for your DAW. Apart from the keyboard configurations, the different models are functionally identical. The UF80, unsurprisingly has a measuring 1408 x 372 x 150mm and weighing in at a daunting 23.5kg.
According to several user reviews, they have praised CME UF 80 Classic for the very solid construction; Comfortable, playable keyboard; Wireless MIDI; 'U-CTRL' Mackie Control surface emulation. Also, some users have complained it for the Documentation is poor and incomplete; Occasional mechanical keyboard noise; U-CTRL may not work wirelessly.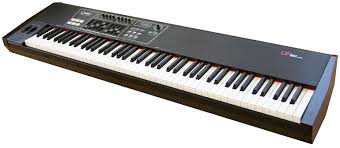 Image source: 
forums.musicplayer.com
Factory Reset:
To restoring CME UF 80 to it's factory settings, just simply power ON while simultaneously holding the [OCTAVE-] and [OCTAVE+] buttons.
Warning! This operation will cause all user settings will be erased and returned to the factory settings. Before you perform this operation, check whether there is any data you want to keep. This procedure also applies to the UF50, UF60 and UF70 units. Hopefully the article of "Reset CME UF 70 Classic MIDI Controller" can help you.
Reference: CME UF manual