Reset a Roland VP-7 Vocal Processor
|
Last Updated on June 20, 2022 by Nick
Roland's VP-7 is a vocoder and harmonizer, with a handful of expressive sampled-voice presets thrown in for good measure. Roland's outstanding VP-7 vocal processor is a surefire hit for singing keyboardists. Plug a mic in, run a MIDI connection to your keyboard, and get ready for amazing choral and vocal harmony effects! It also has on-board reverb and echo effects for adding the finishing touch to your vocal harmonies. Because the VP-7 sports only basic controls, your programming options are somewhat limited, but on the positive side, I rarely needed to refer to the manual.
According to several user reviews, they have praised a Roland VP-7 for the automatic vocal harmonizing; vocoding in a great-sounding; easy-to-use desktop unit. Also, some users have complained it for the price is expensive when compared to some of its competition; although the harmonies work well, they do have a tendency to sound a little artificial at times.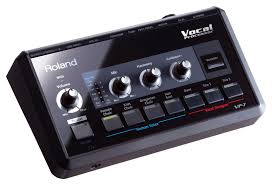 Image source:
zzounds.com
Factory Reset:
To restoring the factory settings in Roland VP-7, just simply power on while simultaneously holding the BYPASS button and the FEMALE CHOIR button. The Factory Reset procedure is complete.
Warning! This procedure will return all of the settings to the values when the VP-7 Vocal was shipped from the factory. Do not use this function unless you are certain that you want to do this. Hopefully the article of "Reset a Roland VP-7 Vocal Processor" can help you.
Reference: Roland VP-7 manual