How To Reset Korg Electribe ESX-1 SD & EMX-1 SD
|
Last Updated on June 20, 2022 by Nick
Electribe is the name given to a group of electronic musical instruments by Korg. Nearly a decade on from their initial release, Korg has once again refreshed their enduringly popular Electribe range. The ES-1 and EM-1 each received major updates three years after their introduction and the EMX-1 and ESX-1 really brought the Electribe concept to its logical conclusion as fully featured all-in-one production environments. The EMX (blue) focused on Korg's MMT (multiple modelling technology) synthesis approach, whereas the ESX (red) is the sample specialist. Both units offered a single box solution for Dance music production, with drum and synth features, arpeggiator, a good selection of real-time effects and the all-important 'Valve Force' tube gain.
According to several user reviews of Korg Electribe ESX-1 SD & EMX-1 SD, some users have praised it for the Minor updates to the Electribe range; New SD card slot for pattern and sample storage; Updated presets and samples. But some users also have complained for the questionable value compared to modern DAWs; A few missed opportunities in terms of tweaks and updates.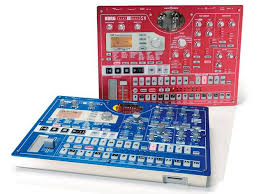 Image source: musicradar.com
Factory Reset:
To restoring the factory settings of Korg Electribe ESX-1 SD/ EMX-1 SD, you must power on while simultaneously holding the Transpose/Solo and write buttons. When the displa appears "Init, are you sure?", press Play button. The Factory Reset procedure is complete.
Warning! This procedure will returning all of the settings to the values when the ESX-1 SD/ EMX-1 SD was shipped from the factory. Be sure that you want to do this. Hopefully the article of "How To Reset Korg Electribe ESX-1 SD & EMX-1 SD" was useful.