How do I calibrate the Expression pedal on a DigiTech Whammy?
|
Last Updated on June 20, 2022 by Nick
This effect can be categorized as the legendary effects of Digitech, because the effect is the most favored by guitarists the world like joe satriani, steve vai etc.. This effect comes with the expression pedal that can raise / lower octave tone or pitch that we play, it could be to provide a sound 2 in 1 guitar. Obvious this really cool effects, these effects make the exploration of sound and melody.
According to several user reviews, they have praised Smooth-as-silk pitch shifting; Long-overdue true-bypass switching; Dual modes; Classic effects; Sturdy construction. Also some users have complained it for the quick riffing in its polyphonic mode can cause the pedal to glitch ever so slightly at times; Selecting effects remains fiddly.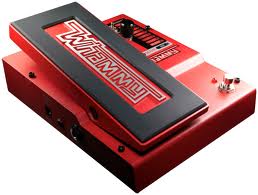 Image source: 
gearnuts.com
Calibration Procedure:
Rock the expression pedal forward to the toe down position.
Connecting the power while simultaneously holding the on/off footswitch
Release the footswitch as soon as you see one of the preset LEDs begin flashing, which indicates that you are in pedal calibration mode. After the footswitch is released, the LED will continue flashing.

Note: If the footswitch is held too long, the LED will stop flashing and stay lit. If this happens, repeat the procedure starting back at Step 1.

Rock the expression pedal fully back (toe up) and then forward (toe down)
Press the effect on/off footswitch again to exit the setup mode.
Warning! This calibration procedure is best performed once the unit has reached full operating temperature after at least 15 minutes of use. Hopefully the article of How do I calibrate the Expression pedal on a DigiTech Whammy? useful for you.