Hard Reset Zoom RT-233 to Factory Default Condition
|
Last Updated on June 20, 2022 by Nick
The RT-223 is the only drum machine currently in the Zoom product line, and it's one of the most basic models of drum machines still available. You can program a simple or sophisticated bass pattern to go along with any drum patterns you intend to use on the RT-223 Zoom drum machine. What you get with the RT-233 is 500 sounds, 70 built-in drum kits, 13 pads, and 440 rhythmic patterns. There are also five Human Voice "Beat Box" Percussion kits that are currently all the rage in Hip Hop. As an entry-level drum machine, this unit is a good starting point.
According to several user reviews of Zoom RT-233 drum machine, some users have praised it for the sounds are actually good; can run off battery power. But some users also have complained for the limited capabilities; small sound library; doesn't come with a power adapter.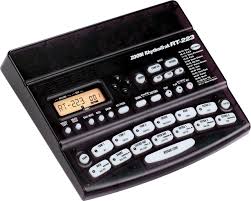 Image source:
zzounds.com
Factory Reset:
To restoring Zoom RT-233 to Factory Default Condition, first power on while simultaneously holding the REC button. When the display appears "ALLINIT", press REC button again to start initialization of the program. The Factory Reset procedure is complete.
Warning! This procedure will return all of the settings to the values when the Zoom RT-233 was shipped from the factory. Be sure you want to erase the memory and return the Zoom RT-233 to its factory default state before continuing with this procedure. Hopefully the article of "Hard Reset Zoom RT-233 to Factory Default Condition" was useful.
Reference: Zoom RT-233 Manual