Hard Data Reset Roger Linn Design Tempest
|
Last Updated on June 20, 2022 by Nick
Roger Linn is an industrial designer, mainly of electronic drum machines, and has recently branched out into guitar effects pedals. One of the products of Roger Linn Design is BoomChik, but changed to LinnDrum II in December 2007, and it was renamed the Tempest, and co-released by Roger Linn Designs and Dave Smith Instruments in 2011. In essence, the Tempest is an analogue/digital synth based on tweaked Evolver/Tetra/Prophet 08 voice chips, mated to a much-improved MPC-style sequencer, all built with live performance in mind. Tempest is an all-in-one beat creation machine, capable of synthesizing, sequencing, and performing complete beat-based music. Don't let its old-school look fool you. There's absolutely nothing outdated about this fantastic instrument.
According to several user reviews of Roger Linn Design Tempest Drum Machine, some users have praised it for the sequencer has classic Linn/MPC60/3000 feel; Extremely tweakable for studio and live performance; The hybrid sound engine sounds just right for drums and synth duties. Also, some users have complained it for the still quite a few issues to fix with the OS.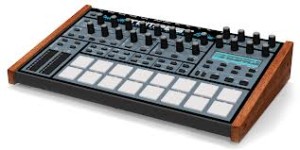 Image source:
rogerlinndesign.com
Hard Reset:
To restoring the factory settings your Roger Linn Design Tempest, first holding ERASE and COPY button together, select "Initializes Project" and finally press the "Init Now" soft button to go ahead with the initialization.
Resets all the system parameters:
To restoring all the system parameters your Roger Linn Design Tempest, you should press SYSTEM button to view the System menu. Select SYSTEM ACTION and then choose "Reset System Parameters".
Warning! This procedure will return all of the settings to the values when the Tempest was shipped from the factory. Be sure you want to erase the memory and return the Tempest to its factory default state before continuing with this procedure. Hopefully the article of "Hard Data Reset Roger Linn Design Tempest" was useful.
Reference: Tempest Manual