2017-2022 Nissan Rogue Oil Life/Oil Change Light Reset Guide
|
Last Updated on March 2, 2022 by Nick
Yo! Wassup, fellas! This is a new Nissan Rogue, and today we're going to do the bare-essential oil change and reset the oil life light on the dashboard.
Even if you don't see a maintenance notification, you can still reset this by using the on-screen display and the left-hand buttons on the steering wheel. So let's go and do that together.
Nissan Rogue Oil Life/Oil Change Light Reset Guide
For your info, this will apply specifically to 2017, 2018, 2019, 2020, 2021, 2022 model years. The older model is slightly different, but I'll try to get you a link up here.
2017-2020 Nissan Rogue
Time needed: 3 minutes.
Here we have a 2017 Nissan Rogue, and I'm going to show you how to reset the maintenance reminders. We're going to be using the on-screen display here along with the keys over the left-hand side of the steering wheel. So the reset can be done as follows:
Turn on the ignition

If your car has a Smart key button, press the START button two times without stepping any pedal

Clear any message

When the vehicle is on the first thing you'll need to do is press any of these keys to clear that message 


Go to the SETTINGS

Once you do that you'll press either the left or right key until you get into the SETTINGS screen

Scroll down and find the MAINTENANCE

Once you're here you'll go down to the MAINTENANCE click OK over that

Get to the OIL AND FILTER

In this menu, you can enter into whichever field you need to reset but right now we're doing the OIL AND FILTER

Click on RESET

From there go down again to RESET and click OK 

Select YES

At this point, you'll confirm by clicking YES and you'll see that's gone back down to zero 

Rest another item

Now you can then hit the back button to get back into the maintenance screen and reset anything else that you may need to reset
2021-2022 Nissan Rogue
Turn the key on
Then use the buttons right here on your steering wheel controls and you're going to press over to the right to get to the SETTINGS menu which it's going to be shaped like a gear symbol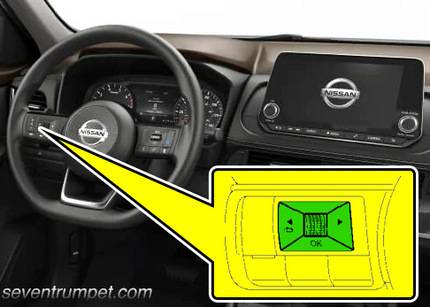 Once you get there, we're going to go ahead and press the OK button which is the center of the wheel
In this menu, we're going to go down until it says MAINTENANCE and hit OK
From there we're going to the OIL CONTROL SYSTEM will reset
Right here you'll press and hold down the OK to get reset mode
To reset, you'll go ahead to YES and hit OK
So that's it for today, guys. Suppose you have any questions feel free to ask me those questions. I will try to answer that question. Thank you so much for coming along on my site, and happy weekend.