2013-2019 KIA Soul Oil Life/Service Light Reset Guide
Last Updated on October 15, 2021 by Nick
Hey everybody! Today I have a 2014 Kia Soul, and we've already done an oil change on this vehicle. It's my wife's car and one of the most accessible vehicles I've ever done an oil change on. So now we will reset the oil life or service light on this KIA Soul.
By the way, I've had bad experiences; one of them cost me my transmission. I decided to do that a lot of changes myself. So if you know how to change your oil, it's straightforward. Anyway, read the post, and I'll show you how to reset the oil life in your Kia Soul, and I'll save you some money.
2013-2019 KIA Soul Oil Life/Service Light Reset Guide
Time needed: 3 minutes.
This section will show you how to reset the oil service light on this Kia Soul. So what we're going to be doing is we're going to be using these two buttons here on the steering wheel. So the way you do this is:
Turn the key on

With foot off the brake, press the START button twice so now the dash is on

Go to the 🔧 or ⚠️

Then what you're gonna do is you're gonna push the ❏ button which is like a piece of paper and you're gonna start scrolling through until you come to 🔧 wrench icon or the ⚠️ exclamation

Display the service minder screen

If you're not on the Service minder screen you can use the ▼ button to scroll down and find it 


Push and hold the ▼ button

Now once you get there, you hold down the ▼ button to reset it
How To Adjust Service Interval
Stick the key in and turn it to the on position
Then push the ❏ button until it gets to the ⚙️ USER SETTINGS and then hit the ▼ button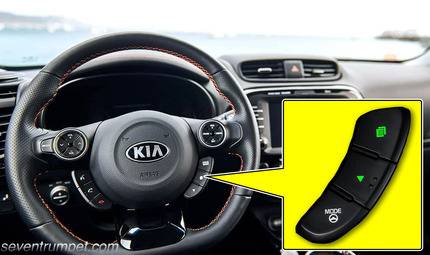 Next, go down by using the ▼ button until you get to the SERVICE INTERVAL, and then press the ❏ button
From there you can select the ADJUST INTERVAL and set it up to whatever you want
So that's pretty much how you'd reset that service interval on this Kia Soul (2013, 2014, 2015, 2016, 2017, 2018, 2019 model years). If you have any questions, please let me know. If you could take a second to share this post, it helps us out, and I'd appreciate it. So thanks for tuning in, guys, and see you next time.