Yamaha S90 Synthesizer Factory Settings
|
The Yamaha Music Synthesizer S90 is a synthesizer and a MIDI controller in one unit, released in 2002 to supersede the S80. As such, it is part of the S series together with the S03 and S08. And here we are looking at the 64-voice polyphonic S90, which offers similar master-keyboard facilities to the S80, borrows sounds from the Motif range of synths, and adds a brand-new, three-layer stereo piano sample set, plus a variety of acoustic and electric keyboard samples. Physically, the S90 is large, though not much larger than such a substantial keyboard action would warrant, and rather heavy, at 23kg. With brown side panels and might give the impression of a digital synthesizer with its green display. 71 push buttons are distributed across the front panel. Pitch bend and modulation wheels are placed above the keyboard aligned to the left.
According to several user reviews, they have praised a Yamaha S90 for useful master-keyboard functions; Smart Media card data storage; Free voice-editing software; Good all-round sound set. Also, some users have complained it for the arpeggiator not editable; Playback-only sequencer; Sequencer struggles when presented with controller-heavy data.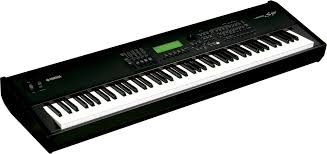 Image source:
zzounds.com
Factory Reset:
To restoring a Yamaha S90 to it's factory settings, first press the [UTILITY] button to enter the Utility mode (the indicator lights). In the Utility mode, press the [JOB] button to enter the Utility Job mode. When you see the "Factory Set" screen, press the [ENTER] button. The display will prompts you for confirmation, press the [INC/YES] button to execute the function. Finally, when the factory reset has been completed, press the [UTILITY] button.
Warning! When you execute these procedure, all the current settings for the all the Performances and User Voices will be overwritten with the factory defaults. Before you perform this operation, check whether there is any data you want to keep. This procedure also applies to the S80/ S90 ES units. Hopefully the article of "Yamaha S90 Synthesizer Factory Settings" can help you.
Reference: Yamaha S90 manual