New VW Volkswagen Passat Oil Service/Inspection Light Reset Guide
Last Updated on August 10, 2022 by Nick
Hey folks! Today I will show you how to reset the oil service or inspection light on VW Volkswagen Passat B8. The service minder can be annoying, but it should make things all your life way easier if you know what to do.
So as of right now, when I come in my car and try to turn it on, you will see the light saying Inspect Now, but it has nothing to do with the oil light. The oil change light can be reset separately, but this one is very different. Alright, so I'm going just to go ahead and start to explain that to you.
2014-2022 VW Passat Oil Service Light Reset Guide
In this section, we will explain how to reset the oil change minder or service light that appears on your Passat. So let's look at the procedure.
Passat With Basic Display
Turn the car completely off
Hold down the 0.0/SET button as you turn on your car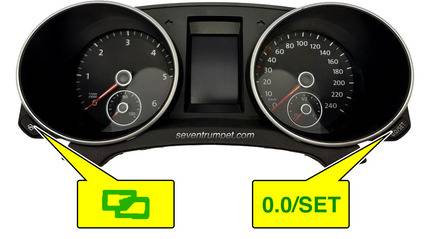 After that, release the 0.0/SET button and then you come over to the left to press the ❏ button so that should reset it
Passat With Premium Display
Time needed: 3 minutes.
So when you start up your car, you'll get these warning lights that are oil change with a flashing wrench. So here is the way you get that to go off:
Turn off your car

The first step is turning off your car and making sure all the doors are closed

Press and hold the 0.0/SET button

The button is located on the cluster


Turn on the car without starting the engine and keep the 0.0/SET button held

If your vehicle has an ignition button, keep your foot off of the brake and then press the START-STOP button

Press the OK button

Once it is turned on you should see this little message that says Do you really want to reset the oil change service? Press the OK button on the steering wheel to confirm

Resetting Inspection Light in Volkswagen Passat
This section will show you how to reset the inspection lights on this Volkswagen Passat B8. The procedure is very simple, so what should you do is:
Passat With Basic Display
Start by turning off your car
Then turn on the Hazard warning light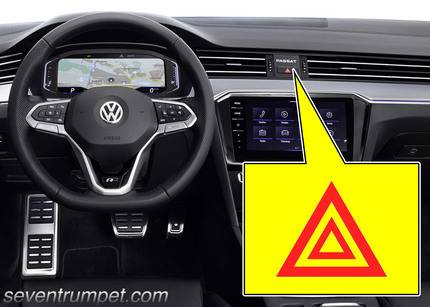 Next, press and hold the 00/SET button on the dash
Turn on the car while still holding down the 00/SET button
When it starts to light up you can release the 00/SET button and then press the ❏ button on the left side of the dash
Passat With Premium Display
Make sure your vehicle is off
Turn on the Hazard
Then hold down the 0.0/SET button while turning the vehicle to the on position
After that, it's going to ask you if you want to reset the oil service. So then what you're going to do on that is you're going to press the OK button on the steering wheel to reset it
Finally, turn off the hazard and you're good to go
For your info, this operation work for the eighth generation/B8 of the VW Volkswagen Passat (2014, 2015, 2016, 2017, 2018, 2019, 2020, 2021, and 2022 model years). For the older ones, you can reach it here.
How to Read the Volkswagen Oil Monitor System
If your Volkswagen Passat's oil level is fluctuating, you may be due for an oil change. The Oil Monitoring System in Volkswagens monitors engine oil levels and oil quality to notify owners of an oil change. It can also alert drivers to service appointments. By using a simple app, you can monitor the status of your car's engine oil and easily schedule an appointment to have your vehicle serviced. Volkswagen has made maintaining your vehicle's engine oil an easy process.
The system uses sensors to measure oil levels and temperatures, allowing it to detect and prevent early oil changes. It also considers stress on the engine oil additives, which can cause them to break down sooner than usual when temperatures rise, or the oil level falls below the full mark. Volkswagen has made this system standard on their vehicles, and many other automakers have followed suit. Understanding what the Oil Monitoring System in Volkswagen Passat can and cannot do for your car is essential.
When it's time for an oil change, most Volkswagens have an electronic computer system in the dashboard that lets you know when to change the oil. Disregarding this system could damage the engine and leave you stranded on the side of the road. It could even lead to an accident if you aren't careful. To avoid this, you must change your oil regularly. You can do this easily with an Oil Monitoring System in Volkswagen.
The Oil Monitoring System in a Volkswagen Passat is not an oil level monitor or a mileage counter. It's a computer algorithm that determines when you should change your oil. The system does not monitor the oil level – you should check the oil level every time you stop for gas. However, the Oil Monitoring System monitors operating conditions and adjusts the interval based on your driving habits and climate. If you're worried about the health of your Volkswagen, make sure you get it serviced regularly and prevent costly repairs down the road.
FAQ – Passat Engine Oil
Should I Use Synthetic Oil in My VW Passat?
Due to their unique engineering, synthetic oil is required for all Volkswagens manufactured after 2004. Volkswagen engines are unique in construction, making them more vulnerable to damage from the contaminants often in motor oil.
What capacity and oil type does a 2015 VW Passat take?
Whether you need SAE 5W-30 or 5W-40 oil and how much you need will vary depending on the year and engine size of your Volkswagen Passat. If you have a 2015 Passat with a 2.0L diesel engine, you should plan on using roughly 4.5 quarts of oil. 5.7 quarts for 1.8L gasoline engine and 5.8 quarts for 3.6L engine.
So that's how you reset the oil service or inspection light on this new VW Volkswagen Passat. It'll be another 10,000 miles until your next oil change light comes up. I hope that was very helpful; leave any comments or questions in the comment section below. So thank you for your time and have a great day!