Vox Mini 5 Rhythm Modeling Guitar Combo Amplifier Review
|
Latest Vox guitar amplifier, is modeling technology that is equipped with a drum machine or rhythm. The concept Vox Mini 5 is specifically designed for the guitarist who wants to play guitar more freely anytime and anywhere.
To meet these needs, Vox Mini 5 is equipped with a variety of reliability features such as 11 realistic amp models (BTQ, clean, black 2×12, tweed 4×10, AC15, AC30TB, UK '70s, UK' 80s, UK '90s, Cali metal, US HiGain , line), eight effects (compressor, chorus, flanger, tremolo four types of delay / reverb: analog, tape echo, spring, room) and 99 types of rhythm / drum machine (8 beat, 16 beat, rock, metal, pop, R & B , jazz, latin, dance, odd meters, metro), electronic tuner, and other features.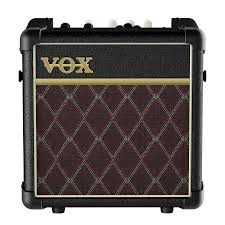 Image source: 
countymusic.co.uk
In addition to feature-rich, this amp is very easy, simple and no hassle when operated. There are only a control panel, such as the four-knob (amp, gain, tone, volume), 2 effects knobs, 3 knobs 2 knob rhythm and mic-in that has been able to meet all your needs. Other facilities, Vox Mini 5 also provides a means of input such as a mic in, aux in, headphones, and a digital tuner. In the hole-in mic, can also be used to the microphone for vocal needs with effect additional delay / reverb.
In addition to using the power of the electric current, this amp can also use AA-size battery power total of six pieces. Its strength can last up to 19.5 hours when in use. Also equipped with two pins on the right side and the left, and do not forget a rope strap. So, take advantage of this amp for ease of action where and anytime. On the road, park or other outdoor activities. Enough to present Vox Mini 5 Rhythm and replace a hand strap on both sides. Now, play the guitar becomes more flexible, easier and more efficient.