Troubleshooter: TC Helicon Harmony Singer
|
Last Updated on June 20, 2022 by Nick
Harmony Singer is a professional multi-effects unit that operates with the simplicity of a guitar stomp box offering three key features: Guitar-controlled vocal harmony, Tone and Reverb. This pedal polishes your vocals to a high-gloss shine with its one-button Adaptive Tone processing that adds EQ, compression, and more to your mic. You can utilize up to two harmony voices guided automatically by the guitar via the In/Thru connection. TC Helicon Harmony Singer aimed at all guitarists wanting to add accurate backing vocals and pristine reverbs to their repertoire.
According to several user reviews of TC Helicon Harmony Singer, some users have praised it for the Plenty of useful; musical harmonies; Compact design; Excellent sound quality. Also, some users have complained it for the distortion With 2 Voices; On off Switch Not Robust; Breaks Easily.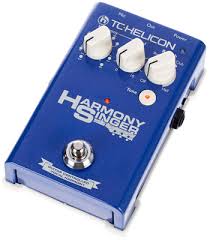 Image source:
thomann.de
In

several

forums

I found

some

questions

and

concerns about

the use of

TC

Helicon

Harmony

Singer

.

And

maybe

some of

these

questions

can

help

you

solve the problem

. Check this out!

Will harmonies still work if I use alternate tunings on my guitar?

Generally, alternate tunings and drop tuning will work fine as long as you are in tune to a reference of A = 440Hz.
Hearing some distortion?

Ensure that the Input LED is green most of the time with only brief and rare peaks of red. Maybe the MIC GAIN knob is set too high
Where should I place it in the signal chain for the best results?

The Harmony Singer should be placed first in the signal chain as having other FX in front of it can throw off the harmony detection.
Do you want this for automatic double tracking?

for recording, some user recommend doing the doubling through a program instead. This pedal definitively thickens the voice but I find that the harmonies are a little unpredictable in their quality. But  

most users

only use for live performance.
Is

the Harmony Singer

can be used

with

the 

chordal instruments

?

Yes, the Harmony Singer can use

chordal instruments

to trigger it's harmonies.
How to enable Momentary footswitch?

to enable this function, power on while simultaneously holding the Tone Button until the display flashes twice.
Hopefully the article of "Troubleshooter: TC Helicon Harmony Singer" was useful.
Reference: Harmony Singer FAQ