The VOX Tonelab LE Hard Reset
|
Last Updated on June 20, 2022 by Nick
The ToneLab LE is not just a floor processor for guitar effects, it's includes a few improvements on its popular predecessor, the ToneLab SE. It's equally suited to desktop home recording. This pedal is very comprehensive foremost a multi-effects modeling is a bit of modeling technology found in Vox amplifiers DA with a lot of additional opportunities and a 12AX7 tube to warm the sound. It has a substantial bank of amp simulators, several cabinet simulator, and many of effects. Featuring an S/P DIF optical digital output and MIDI IN and OUT connectors, ToneLab LE offers you plenty of potential and numerous options to expand your system.
According to several user reviews of the VOX Tonelab LE multi-fx, some users have praised it for the overall sound; the usual great Tonelab valve amp models; User-friendly layout; built like a tank. But some users also have complained for the unusually low output; the distortion and Hi-gain settings on all amp models sound like a blown speaker.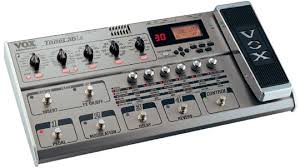 Image source:
gear-vault.com
Factory Reset:
To restoring the factory settings of the VOX Tonelab LE, first power on while simultaneously holding the  ▲, ▼ button and EXIT/TUNE button, and then release it when the bank display "P" and the LED 1–4 buttons blinks, and the name display ask "RELOAD?". Finally, press the WRITE button to start initialization of the program. When restoring has been completed, the name display will indicate "COMPLETE," and ToneLab LE will automatically switch to Program Select Mode.
Warning! This procedure will erase all the programs you created and saved in ToneLab LE, and will load the factory-set programs. So be sure to back up any information you wish to keep by use the "Program sheet". Hopefully the article of "The VOX Tonelab LE Hard Reset" was useful.
Reference: VOX Tonelab LE Manual