SWR Black Beauty Combo Bass Amplifier Review
|
Since its introduction in 2009, SWR Black Beauty is still a professional bass amplifier combo is tough. One of the secret lies in an embedded 1 x 12AX7 preamp tubes that provide a distinctive character and thumping sound that bright, round and solid. Construction of Black Beauty packaging designed with classic, shaped box, which contains a speaker driver measuring 15 inches. This bass amp has a power of 400 watts, weighs 47.7 kg and using wood materials coated black carpet, with a flat iron chrome-plated steel.
At the cabinet etched a 15 inch Eminence speakers with 8 ohm speaker impedance and fitted horn / tweeter type Foster® Horn. On the rear panel, there is a panel line out XLR and ¼ "line out, side chain effects loop, headphone jack. While at the front, there is a row of control panels such as gain, aural enhancer ™, subwaves ™, bass, midrange frequency and level, treble, compressors, master volume, effects blend is user friendly operation.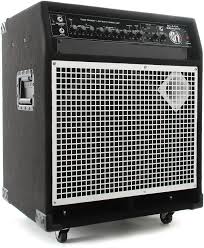 Image source: 
gearnuts.com
Other unique features are also SWR® preamp with aural enhancer ™, subwaves ™ octave effects, studio-quality direct outs on the front, compressor circuit, 3-band active EQ, tuner out, and mute tuning LEDs. By utilizing the entire feature before, will get the maximum performance of the amp.
To protect the speakers, this amp has a layer of chrome steel serrated box that also serves as a barrier sound vibrations. For the needs of sound quality, classy and professional level in any situation, the SWR is still the main choice.
SWR Black Beauty Features:
Dual independent input jacks compatible for both active and passive instruments
Gain control with LED peak clipping indicator
Exclusive Aural Enhancer circuitry
SubWave (with Level control and illuminated on/off switch)
Limiter with defeat switch
Active bass and treble controls
Variable mid-range EQ
Effects Blend Control
Master Volume Control
Power On/Off Switch
Sidechain effects loop
Balanced XLR output with mode switch (Direct, Line, or Direct + Sub)
Tuner send
Subwave footswitch jack
Extension speaker output
Three-way tweeter control switch (full-range, -6dB, tweeter off).
Extruded heat sink
Read also "Fender Blacktop Series" and another gear reviews. Hopefully the article of SWR Black Beauty Combo Bass Amplifier Review useful for you.