Sony Cyber-shot DSC-H400 Digital Camera Solutions to Common Problems
|
Segment of the digital camera market, with the ability superzoom appears to still have a special attraction for some camera manufacturers. Sony, which is one of the huge company with a variety of electronic products including digital cameras, this time offering one of the newest digital camera collection with the name of Sony DSC-H400 series.
DSC-H400 is designed by Sony with a long zoom range features the SteadyShot 63x Optical zoom with a range equivalent of 24.5-1550mm. The camera is claimed is Sony's first digital camera that has the highest zoom range in its class and also the first in the world. In addition to having the advantage on its zoom range, DSC-H400 is also believed to be capable of producing images with sufficient quality due to the use of type CCD sensor resolution of 20.1 megapixels. The use of the CCD type sensors are also claimed to be able to present the HD quality video.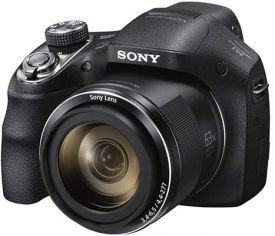 Image source: 
photographyblog.com
Sony DSC-H400 is designed to provide ease of use thanks to a similar body design with a professional SLR camera. The superzoom digital camera is also equipped with several key features, among others, an electronic viewfinder, Intelligent Auto button, flash and also a dedicated movie button for easy video capture process. Sony also has equipped the DSC-H400, with a Lithium-ion X-series battery with high capacity that is able to capture up to 300 photos in just a one-time charge. With these capabilities the DSC-H400 is perfect for consumers who have traveled hobby.
Lens error on Sony Cyber-shot DSC-H400
Having a "Lens error" message display on the camera's LCD display indicates a problem with the camera lens mechanism. Usually it is because the entry and exit of the lens mechanism jammed, for example, had fallen, once when the lens is stuck out and vice versa when the lens is pushed entry and so on. But if you have never experienced physical violence usually only lubricating plastic gears that are already dry.
Usually, simply switching the camera Off then On again is enough to correct this problem. Or try to remove the batteries for 5 seconds, and then plug it in again. If that doesn't work attempt to give the camera a good jolt. A shake of the camera will often realign the mechanism or knock off dirt.
If this does not help, then we regret the camera must be sent to Sony Service department as there are no user serviceable parts on Sony Cyber-shot DSC-H400 cameras.
Recover Deleted Photos on Sony Cyber-shot DSC-H400
Download and install photo recovery software on your computer, for example I use Recovery My Files
Connect your Sony DSC-H400 memory card to a computer with a card reader
Run the Recovery My Files program
Select the drive where you will be in recovery (your Sony DSC-H400 memory card)
There are 2 options to be selected, you should select the "search for deleted files (recommended)"
Wait until the scanning process is finished, the length of the process depends on the size of files to be recovered. If the file is large and many, it is certain that the process will take a long time.
Once the process is complete, mark all files that will be recovered
Select the storage location of the file recovery yield, for example, is placed in the D: \, then click OK
Read also "Fix a lens error and Recover Deleted Photos on Panasonic Lumix DMC-GM5" and another user guides. Hopefully the article of Sony Cyber-shot DSC-H400 Digital Camera Solutions to Common Problems useful for you.