1997-2013 BMW 3-Series Oil Service Light Reset Guide (E46/E90/E92)
|
Last Updated on August 26, 2022 by Nick
Hello-hello! Who's there? It's me, Nick talking. Today we're going to do a reset oil service light on my BMW 3-Series E46/E90/E92, and I'm going to step you guys through it. The BMW 3 Series (internally: E90 sedan, E91 estate car, E92 coupe, E93 convertible) served the middle-class segment.
I've already done the service myself, and now I need to reset the light. Otherwise, every time I turn the ignition on, it will remind me that it needs a service. So stick on here; I will show you how to do it.
1997-2006 BMW 316i 323i 330i (E46) Service Light Reset
Switch the car off and hold down the left button on the dash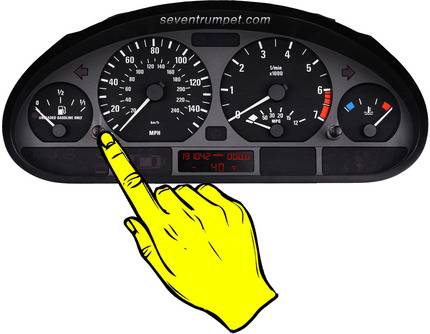 Then turn the key to position one but don't lift the finger and keep pressing the dash button
Keep holding the button down until you see RESET and it'll begin to flash
When the reset light starts to flash just release the finger and press it again to confirm the reset
2007-2013 BMW 318i 320i 335i (E90/E91/E92/E93) Oil Light Reset
Time needed: 3 minutes.
In this section, I will show you how you can reset the service intervals when they come up on your car. So, for example, it might be for the engine oil, vehicle check, brake pads, or maybe brake fluid. So the way you do this is:
Turn on your ignition but you don't want to start the engine

So the first step is I haven't got my foot on the brake or the clutch and I'm just gonna press the START button once and that will bring up the dash light

Hold down the RESET MILES button

Now what you want to do is this button on the left of the dash that you normally use to reset your trip, you need to just hold it in. So press it in until you see a Service Item on the screen.


Press the UP or DOWN button on the stalk briefly to scroll the service minders that you want to reset

Once it comes up with the service item you can scroll through the different items by using the ▲or▼ button on the turn signal lever. So at the moment, I'm going to scroll down and you can see it's going to front brakes, vehicle check, oil brake, fluid brakes, front brakes, etc.


Press and hold the BC button

Since we are going to reset the oil then you have to display the Engine Oil icon on the screen. Then all you've got to do is hold in the BC button on the end of the stalk and then it will ask you to reset it now

Release and then hold it again to confirm the reset

Next, you need to hold the BC button in again, and then a little timer will come up so then it will reset and you're done
For your info, this operation work for the fifth generation of the BMW 3-Series E90/E91/E92/E93 (1997, 1998, 1998, 1999, 2000, 2001, 2002, 2003, 2004, 2005, 2006, 2007, 2008, 2009, 2010, 2011, 2012, 2013 model years). For the latest model, you can reach it here.
BMW 3-Series Service Interval Indicator System
The BMW service interval indicator system is an intelligent feature that will help you know when it's time to service your car. It monitors certain aspects of your vehicle, such as brake fluid, tire pressure, and engine oil. This can prevent you from scheduling service when it's unnecessary. But you should listen to your car and make an appointment with a qualified BMW repair shop before the indicator goes out.
The system is linked to the dashboard iDrive monitor and will tell you when your car needs maintenance. It will either have a green "OK" symbol to indicate that the information you're receiving is up-to-date or a yellow triangle icon if the listed components need servicing. Ignoring these warnings is risky for your car's engine and may even put you stranded.
The system will alert you to your car's service needs based on your driving habits and the location you've been in. You should also consult your owner's manual for more information about the vehicle's maintenance schedule.
FAQ – BMW 3-Series Oil Service
How much oil does a BMW 330i take?
The BMW 330i requires 5.6 quarts of full-synthetic oil.
What oil can I use in my BMW E90?
You should only use synthetic, high-performance oil in the E90 BMW's engine. It's essential to keep your engine at the correct density and viscosity to prevent unnecessary wear, and SAE 5W-30 meets both requirements.
How often does a BMW 330i need an oil change?
In the past, most cars changed their oil every three to five thousand miles. The current rule of thumb for oil is between 7,500 and 10,000. (And the owner's handbook for your 330i probably suggests an oil change every 15,000 miles!) If you want to be on the safe side, you should replace your oil every 5,000 miles, especially if your 330i has more than 75,000 miles on it. You should use high-mileage synthetic oil in that circumstance.
How expensive is an oil change for a BMW?
BMW oil changes usually cost between $135 and $197. However, when you pull up to the repair shop or technician, you may be surprised by a greater total.
Okay, so that's how you reset the BMW 3-Series oil service light and how you can check the intervals. I hope you enjoyed the content and thanks for your time. Until next time, cheers!