Service Due Light Reset on 2011-2015 Mercedes Benz SLK-250
|
Service Due Light Reset on 2011-2015 Mercedes Benz SLK-250 – The Mercedes-Benz R 172 is a roadster of the car manufacturer Mercedes-Benz. The convertible represents the third generation of the SLK class (from 2016 SLC class) and is the successor to the Mercedes-Benz R 171. The R 172 is built in the Mercedes-Benz plant in Bremen. The vehicle was first presented at the Qatar Motor Show. The dealer premiere in Europe took place on March 26, 2011.
The Roadster typically long bonnet has been preserved, instead of the front with reference to the Formula 1 cars, the SLK is now at a barbecue with a center bar that bears the star in the grill, recognizable, and below that is another central air intake. The upper end of the bonnet is dominated by two large air outlets. In contrast to its predecessors, the rearview mirrors with integrated turn signals are on the door flanks, just like in the CLS.
Service Due Light Reset on 2011-2015 Mercedes Benz SLK-250:
To reset Service Interval Warning Light on 2011 2012 2013 2014 2015 Mercedes Benz SLK-250, conform to the following instructions:
Close all doors, windows, hood and trunk
Turn the ignition to the position 2 without starting the engine
Press the system selection button (house icon located on the left of the steering wheel) repeatedly until the menu item TRIP is highlighted in the multi-function display.
Press and hold the  (ACCEPT CALL) button for a second
While holding the  (ACCEPT CALL) button press and hold the OK button.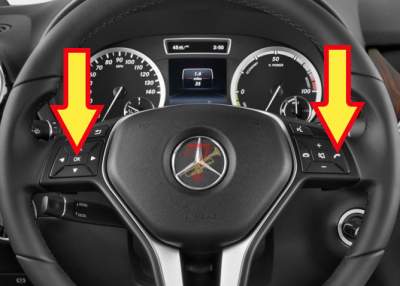 After several seconds the service menu should come up.
Scroll down and select the ASSYST PLUS
Select FULL SERVICE
Scroll down to select CONFIRM SERV
Select appropriate OIL GRADE being used
Select YES and confirm it
Turn the ignition off and then start the engine to verify the indicator has been reset.
For more details, please watch the following video:
This procedure should apply to the third generation of Mercedes Benz SLK-250 (2011 2012 2013 2014 2015 model years). Hopefully, the article of Service Due Light Reset on 2011-2015 Mercedes Benz SLK-250 can solve your problem. Good Luck! 😀