Schecter Hellraiser Hybrid C-1 FR Electric Guitar Review
|
Schecter guitar re-launched its newest flagship, 'Schecter Hellraiser Hybrid C-1 FR', an active electric guitar technology latest of metal. The construction of 'Hellraiser Hybrid C-1 FR' also designed carefully, the image exudes luxury and energetic, with a display that looks skillful and technical.
Look at its features which strongly supports that impression. Applying splicing system ultra access set neck, between the neck to the body, using mahogany wood materials for the body, which is designed with a double cutaway for easy access in the high frets, contoured arched top, three layers of maple wood on the neck, a pair of active humbucker pickups, tremolo bridge up-down Floyd Rose and 24 jumbo frets. Special to the body, Hellraiser Hybrid C-1 FR is also relying on the wood fiber quilted maple, to reinforce the view is gorgeous on the surface of the body. Also equipped with a carbon fiber bindings list line multiply the entire body with shiny fininshing made​​. Make Hellraiser Hybrid C-1 FR looks more elegant, energetic once frightening.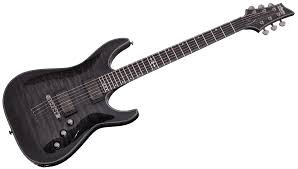 Image source: 
woodbrass.com
On the neck, the guitar scale length 25.5 inches (648 mm) is applying the ultra thin neck shape 'C', where the neck resembles the letter 'C' which is not too thick. In order to keep the neck straight, stable and durable, also applied three layers of maple wood material on the whole of neck. As for the fretboard, ebony relied upon to strengthen the foundation of traffic fingers in action. When tested, playability on the guitar neck is very comfortable. To sustain the strings, the bridge used is kind of up-down tremolo Floyd Rose 1000 series, which is known to be skilled in making stringed elastic, stable, and easy tuning changes. The size of the string that is used is 0.010 mm – 0.046 mm which results in a firm tone and thick. At the hardware, this guitar combines shades of black for the bridge, tuners, nut lock, metal frets, knob until the pin strap.
To maximize sound bursts, a pair of active humbucker pickups namely: EMG 57 (bridge) and EMG 66 (neck) were clad brushed black chrome. Both pickups have magnetic power, which is sensitive and responsive. In addition to bold, the resulting sound character is also very warm. Character desired sound can be adjusted via the three-way switch (bridge-bridge + neck-neck) combined with three control knobs for volume, volume and tone. Because of this pickup is active, then it takes a 9-volt battery power. In order for these pickups work optimally, it is recommended to replace it every 12 hours of use.
Shcecter Hellraiser Hybrid C-1 FR is one type of Schecter Hellraiser Hybrid. In addition, there are several more types, such as C1, C1 FR LH, LH C1, C7, LH C7, C8, C8 LH, Tempest, and Tempest LH. The presence of Hybrid Shcecter Hellraiser C-1 FR black hardware that rely on the bridge, tuners, nut lock, metal frets, knobs until this strap pin, provide new solutions for the guitarist in the development of the latest sound technology.
Read also "Review: Ibanez Iron Label RGIR28FE 8-String Electric Guitar" and another gear reviews. Hopefully the article of Schecter Hellraiser Hybrid C-1 FR Electric Guitar Review useful for you.