Roland Jupiter-80 Synthesizer Factory Reset
|
Thirty years ago, the Roland Jupiter-8 synth redefined the sound of music. The Jupiter 8 looms large in synthesizer history, and any synth bearing the name has a lot to live up to. By combining the legendary vibe of the Jupiter-8 with the stunning realism of Roland's SuperNATURAL synthesis engine, Roland has made the new Jupiter-80 a force to be reckoned with. It also features a virtual analogue modelled synth, which Roland call a 'Supernatural Synth', featuring several virtual analogue waves, the 'Supersaw' wave which debuted on the JP-8000 (which is a staple sound for Trance producers) a noise source, plus (like the Nord Stage 2) it also has sampled PCM waves too, though you can't import your own currently.
According to several user reviews, they have praised a Jupiter-80 for the sonically punchy and versatile synth section; Registrations facilitate musical arrangement in an inspiring way; It's a solid, robust performance synth with a good keyboard and reassuringly large, friendly controls. Also, some users have complained it for the programming architecture is not well explained; a few gaps in the editing software; No vibrato/chorus effect for organs at this time.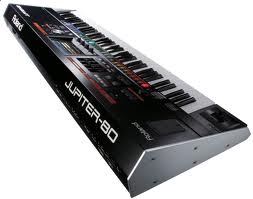 Image source:
synthgasm.com
Factory Reset:
To restoring the factory settings in the Roland Jupiter-80, first press the MENU button, select Factory Reset and touch EXEC. When A message ask you "Are you sure?", touch touch OK to start the Factory Reset operation. Finally, turn the power off, then on again when the factory reset has been completed.
Warning! When you execute "Factory Reset", all data in the JUPITER-80 will be lost. So be sure to back up any information you wish to keep. Hopefully the article of "Roland Jupiter-80 Synthesizer Factory Reset" can help you.
Reference: Roland Jupiter-80 manual