Roland HD-3 Module Factory Reset
|
The original HD-1 (precursor to the new HD-3), intersected the boundaries between musical instrument and home entertainment. The Roland HD-3 is an electronic drum kit that is aimed largely at the domestic market but which is actually a more well-equipped and serious piece of kit than it at first may appear. The HD-3 is basically a 5-piece standard drumkit : Bass drum, snare, 2 toms and 1 floor tom, with the addition of 2 cymbals and a hi-hat. You also get an 1/8″ input jack for CD players or iPods – great for learning songs and practicing. The HD-3 streamlines the technology of its predecessors to create one of the most straightforward electronic kits around, without sacrificing functionality.
According to several user reviews, they have praised a HD-3 for the Easy to put together; User-friendly module; Compact, elegant design; Improved sounds; A more playable kit, for the most part; V-Drum snare; Small footprint. Also, some users have complained it for the Pre-programmed rhythms just demos; We preferred the old toms; Bass drum pedal won't suit all; No play-along tracks included.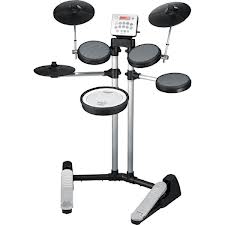 Image source:
dawsons.co.uk
Factory Reset:
To restoring the Roland HD-3 to it's factory settings, first hold down the VARIATION button for a while. When a message asking you to select a parameter, press the "10" button. When "Factory Reset = OK!" appears in the display, press UP (∧) button. When "Sure?" appears, press UP (∧) button again to start the Factory Reset operation. The Factory Reset procedure is complete.
Warning! This procedure will return all of the settings to the values when the Roland HD-3 was shipped from the factory. Be sure that you want to do this. Hopefully the article of "Roland HD-3 Module Factory Reset" can help you.
Reference: Roland HD-3 manual