Roland BK-7M Backing Module Factory Reset
|
Roland was introduced the BK-7m in 2011. it's a portable backing module that can connect to any MIDI-compatible instrument, such as a keyboard, digital piano, or digital accordion. It comes with hundreds of accompaniment styles and sounds. The BK-7m includes 400 internal styles (500 from the arrangers of the previous mark, founis USB key), more than 1,000 sounds, more than 50 drum kits, four blocks effects of insertion + reverb + chorus + equalizer (per game) + compressor (per game). The BK-7m is not just an arranger, it is a multimedia player as well. Backing tracks in SMF, KAR, MP3, and WAV format can be accessed from the USB memory key input, and audio can also be recorded in WAV format to a USB memory key. The BK7m also comes with the audio / MIDI sequencer Cakewalk SONAR LE.
According to several user reviews, they have praised a Roland BK-7M for the Compact, light weight; Many styles, high quality; Many sounds, many effects, high polyphony; Versatility: playback / recording MP3, midifile / karaoke; Full connectivity. Also, some users have complained it for the New price a bit high; No PC editor supplied.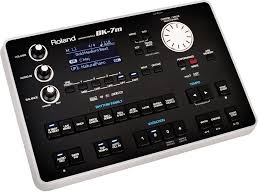 Image source:
woodbrass.com
Factory Reset:
To restoring the Roland BK-7M to it's factory settings, first press the MENU button, select the "Factory Reset" entry by rotate the CURSOR/VALUE dial and then press the CURSOR/VALUE dial. When a message appears on the display, select "YES", then press the CURSOR/VALUE dial to execute the function. The Factory Reset procedure is complete.
Warning! This procedure will return all of the settings to the values when the Roland BK-7M was shipped from the factory. Be sure that you want to do this. Hopefully the article of "Roland BK-7M Backing Module Factory Reset" can help you.
Reference: Roland BK-7M manual