Review: Sony Alpha A3000 – First Mirrorless Digital Camera with DSLR Form
|
In 2013, Sony has introduced the latest camera products in line Alphaseries, the Sony Alpha A3000. The presence of this camera so exciting, because it is Sony's first mirrorless camera that uses design as DSLR (Digital Single Lens Reflex), but with a smaller body. Amazingly, this latest Sony digital camera also has a performance that is almost equivalent to DSLR cameras in general.
Previously, Sony has stopped production of its DSLR type camera, could switch to make the NEX series mirrorless cameras. But, because the price is quite expensive, the camera is more suited for customers in the high-end segment. Now, to reach the entry-level market, the launching of the Sony mirrorless camera AlphaA3000 edition, which sold for quite cheap, but it does not lose quality. Here's his review.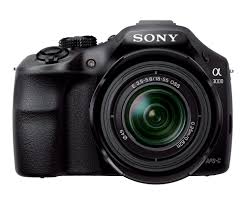 Image source: 
sony.com
Design and Control
Sony's latest digital camera Alpha A3000 actually come with a very similar design brings DSLR camera, equipped with a hand grip and a hot shoe for an external flash. For most lovers of photography, holding the form of a DSLR camera with a much more solid feel and seem more serious. In addition, with a smaller body, making it easier to manage users can control the camera.
Not only that, this camera is also equipped with an electronic viewfinder, unlike the Sony NEX camera types that do not have the part. With it, the user's Sony Alpha A3000 camera can no longer just rely on the LCD screen during shooting, but also can take advantage of the viewfinder. Then, this camera also brings a more simple, minimal buttons, and using e-mount with a tiny lens.
Image Quality and Resolution
SonyAlphaA3000 camera has a sensor Exmor APS-C HD CMOS with-resolution-20,1MP, which guarantees a high level of image quality. Thus, not only the designs are similar to a DSLR, but the specs it carries also able to produce quality photos and videos that are not less good than the professional cameras. Also its ISO capabilities from 100 to 16,000.
Some of the technologies enhance the image quality that can be created through this camera. With 25 points Contrast Detect Autofocus technology embedded in the camera's Sony Alpha A3000, can ensure the quality of the resulting image is much sharper than the other mirrorless camera manufacturer. Then, Optical Steady Shotstabilization technology capable of capturing images in order to optimize the minimal blur.
Meanwhile, the ability to record Full HD video quality reach 1080i60 or 1080p24 at 60/24 frames per second speed. The quality of the video was perfect, with the capability of ISO 100 to 3200 which also owns. The quality of photos and videos is supported by electronic viewfinder has a resolution of 768,000 dots, and the main LCD display measuring 3 inches with a resolution of 230,000 dots.
Performance
To support the performance of this camera, Sony provided him with an image processing mainstay theirs, BIONZ. Image processing chipset is known to be very powerful. Meanwhile, resources are powered by the NP-FW50 battery, which can last up to 470shots. Battery endurance it could be much longer, if users use the viewfinder and the LCD screen that can leave the battery drain.
Features
There are many great features are pinned on this Sony Alpha A3000 camera. One of them, there are Live View feature to focus faster to capture the moment, compared with a DSLR camera. In addition, there are also features Intelligent Auto mode image capture, Object Framing Auto, Auto HDR, Face Detection technology and Sweep Panorama, and Style Creativity Six settings, and 15-option different photo effects.
For the consumer this Sony Alpha A3000 camera, Sony also provides a kit lens E-Mount type measuring 18-55 mm capable f / 3.5-5.6. The lens itself is an OSS version which features stabilizer for this camera. As the camera with functions similar to DSLR cameras, this camera also supports to exchange lenses. In fact, users can also use A-Mount lenses with the help of a special adapter.
Following a review video of the Sony Alpha A3000
Conclusion
Although it carries many features like those found in professional cameras, but Sony Alpha A3000 camera is even targeting consumers in the entry-level class. In fact, the price is also slightly cheaper than the entry-level DSLR camera. Starting in September 2013 ago, this camera has been sold for $399. For those who want a small camera with great performance, this Sony mirrorless camera could certainly be an option.