Review: Samsung WB110 – a Digital Camera with 26X Optical Zoom Features
|
Samsung may not be the king of digital cameras. But, Samsung secretly storing a variety of quality products in the digital camera segment. As seen in the latest digital camera product, the Samsung WB110. Devices that have been released this past mid-2013, saving the best technology of Samsung. You will find the best superzoom feature in this Samsung digital camera, the design and shape of a typical compact and lightweight high-end camera, this camera seriously want to target users in the field of photography.
Samsung WB110 digital camera comes with a compact design like a DSLR camera upscale. This camera comes with a size of 11.4 x 7.9 x 8.6 cm with a total weight of 390 grams. The camera also features a 3-inch color LCD screen with a transparent TFT LCD technology. Interestingly The LCD screen is equipped with special technology that automatically adjusts screen brightness optimally in all conditions. This camera is very fitting shape with the hands. Comes with quality materials, makes the whole body feels lighter yet sturdy.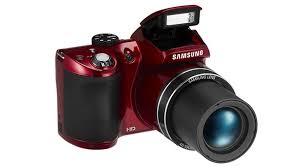 Image source: 
engadget.com
Samsung is also set neatly and detail settings buttons on this device. You will find a variety of distinctive settings buttons like the other digital cameras in addition to the LCD screen with a minimalist. Manufacturers also bring a little indentation on the body to put your fingers so that you can be comfortable in holding the camera. Samsung very concerned about the comfort of a button on this compact digital cameras, including the mode knob located at the top.
Image Quality & Resolution
This latest Samsung digital camera can produce images of the biggest resolution: 5152 x 3864 pixels, up to a small 1024 x 768 pixels. In terms of video, the camera is capable of recording with a resolution of 1280 × 720 pixels and 320 x 240 pixels with HD quality. This camera can produce images with JPEG and RAW. For video, these cameras produce MOV video format.
In terms of image capture, the camera's features a variety of modes like other digital cameras. Samsung wants to offer the best photographic experience in this device. You can take pictures in various types of modes such as Auto, Standard, Portrait, Landscape, Neutral, Faithful, Monochrome. Interestingly, Samsung digital camera is equipped with two special modes that is smart auto and live panorama mode.
Then there is also the Auto white balance with the image sensor and white balance correction; Autofocus and manual focus; Metering Modes and Exposure Control Systems, auto and manual ISO to video capture mode. One other feature is the face recognition feature. To add to the excitement, Samsung also brings the features of smart filters and camera photo editing.
Features
Samsung WB110 digital camera is equipped with features Dual Optical and Digital Stabilization. this 2013 digital camera, also armed, 26x optical zoom that brings you to capture more detailed images. Features ultra powerful long zoom is able to reduce noise and motion blur in shots. Unfortunately, for the problem of data transfer, the vendor rely on the USB cable and micro sd. For a camera with the best features, the lack of wifi feature is quite disappointing.
Performance
In its latest device, Samsung rely on, 20.2 megapixel CCD sensor with the help of qualified processors. This technology make the camera lens has a high sensitivity. Result can display images with the lighting and clear texture. Additional assistance best lens, 22.3-580mm (eq.) F / 3.1-5.9 make a sharper image capture and accurate. Alloy Technology, and the lens also makes the quality of the images superzoom digital camera is not far away from premium DSLR quality shots. This camera has a sensitivity range of ISO 100-6400 sensor that is quite successful to clear the picture is.
Conclusion
For those of you who are looking for a camera, with DSLR equivalent quality at an affordable price, this camera fits you have. Samsung WB110 camera is a point and shoot camera device with a compact and convenient form. With additional features Dual Optical and Digital Stabilization makes it convenient to use the camera on the way as a substitute Premium DSLR cameras. This Samsung digital camera, released at an estimated price of $ 250. The price is comparable to the performance and quality.
Read also "Review: Panasonic Lumix DMC-ZS30 – a Digital Camera with 40x Intelligent Zoom" and another digital camera reviews. Hopefully the article of Review: Samsung WB110 – a Digital Camera with 26X Optical Zoom Features useful for you.