Review: Polaroid iM1836 – an Entry-level Digital Camera With Android System and WiFi Features
|
As a major manufacturer in the industry of photography, Polaroid continues to bear a wide range of products to satisfy the desires of the users of digital cameras. In 2013, Polaroid continues to fill, the various classes of camera in the gadget market with products of high-end to entry-level. Now this giant manufacturers, began to concentrate, to compete in the class Mirrorless Interchangeable-Lens Camera (MILC). This can be evidenced by the presence of new product entry-level digital cameras called Polaroid iM1836. Interestingly, though not the first, Polaroid trying to bring the Android system in the latest digital cameras.
Polaroid IM1836 camera comes with a compact design that is stylish. This camera comes with a size of 4.2 x 2.5 x 1 inches with a total weight of 235 grams. The camera also features a 3.5-inch color LCD screen with Brightness Control technology and features a touch screen display. This camera is very fitting shape with the hands. Comes with quality materials, makes the whole body feels lighter yet sturdy.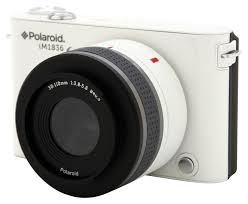 Image source: 
androidpolice.com
Polaroid also arranged in a neat and detail settings buttons on entry-level digital camerathis. You will find a variety of distinctive settings buttons like the other digital camera on the top. The manufacturer pay attention to the comfort of a button on this compact digital camera. Unlike others, manufacturers minimize the settings button on the back. This is because this device has been equipped with a touchscreen and features the Android operating system. The manufacturer only provides 4 buttons, the home, menu and back, There is also a video recording button is also separated. With this design, the LCD will feel more spacious.
Image Quality & Resolution
Entry-level digital camera made ​​by Polaroid is armed with the best technology. Android digital camera can produce images of the biggest resolution: 4608 x 3456 pixels to a small 640 x 480 pixels. In terms of video, the camera is capable of recording with a resolution of 1280 x 720 pixels and 640 x 480 pixels with HD quality. This camera can produce images with the JPEG format. For video, this camera produces Mp4 video format. In terms of image capture, the camera's features a variety of modes like other digital cameras. There are various types of modes such as Auto, Standard, Portrait, Landscape, Neutral, until Panorama.
Polaroid iM1836 may not offer a lot of features, like a premium digital camera. However, you do not have to worry, because the operating system Android Jelly Bean pinned quite easy to use and more flexible. Polaroid want to offer, the best photography experience in this device. You can take pictures in different types of scenes or filter mode like a DSLR camera thanks to the Polaroid boasting technology "DSLR quality".
Features
The new Polaroid camera equipped with 10-30 mm lens with Optical zoom technology. Plus a clear image digital zoom technology to bring you to capture more detailed images. Support features ISO 100 to ISO 3200 even easier for you shooting in low light. With the addition of Eco save mode, make this camera a more efficient battery, when used to take a moment on the trip. In terms of data transfer, Polaroid pinned Wifi technology and a USB cable.
Performance
Unlike its predecessor, this digital camera is equipped with a CCD type sensor of 18 megapixels, and the best processor. Given these processors, making this android digital camera, capable of recording images with a very natural color detail. As a digital compact camera, this device can be relied upon to replace the functions of a DSLR camera in taking the moments of your life.
Conclusion
If you are fed up with the existing digital camera, maybe you can try this new Polaroid camera. Comes with the concept of Mirrorless Interchangeable-Lens Camera (MILC). Interestingly, Polaroid equip Jelly Bean Android operating system on the device named Polaroid iM1836. The design is compact and equipped with an LCD screen that is wide enough to navigate and even easier when set in the device settings. To allow you to move photos or connected to other devices, Polaroid has pinned Wifi feature. Although still found little lag in the Android system, not make this camera lost its luster. Polaroid IM1836 digital camera will be released at an estimated price of $ 300. The price is comparable to the performance and quality.
Read also "Review: Ricoh HZ15 – an Entry-Level Digital Camera with 15x Superzoom Feature" and another digital cameras review. Hopefully the article of Review: Polaroid iM1836 – an Entry-level Digital Camera With Android System and WiFi Features useful for you.