Review: Pentax MX-1 – Digital Camera with Classic Retro design and Attractive Features
|
What if modern digital compact cameras combined with a classic retro camera appearance typical ancient times? A digital camera manufacturers trying to break the monotony of the look of today's digital compact cameras with the release of the classic retro design Digital Camera, Pentax MX-1. This new digital camera, released as a continuation and development of the previous series of premium cameras. Pentax vendors try to combine classic design with modern camera technology today. As a result you will find the best LCD screen and lens behind the metal body and plastic typical old school camera. Expected this digital camera, can treat sense of nostalgia.
Pentax MX-1 Camera comes with a compact design and retro. This camera comes with a size of 122.5 x 60 x 51.5 mm with a total weight of 390 grams. The camera also features a 3-inch color LCD screen with the best technology in display detail shots. Unfortunately, this camera Forms quite large and heavy so less comfortable grip and taken away. Comes with quality materials combined metal and plastic, makes the whole body feels heavy but sturdy.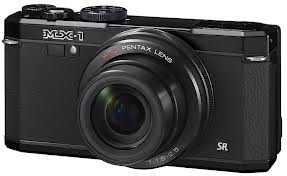 Image source: 
.us.ricoh-imaging.com
Manufacturer Pentax also set neatly and detail settings buttons on this device. You will find a variety of distinctive settings buttons like the old school camera. Interestingly, the side of the LCD there are full buttons settings which is typical of high-end digital cameras. Its LCD screen can even set the angle for your convenience. Overall, manufacturers pay strict attention to the comfort of the buttons on this Pentax digital camera.
Image Quality & Resolution
MX-1 digital camera is armed with the best technology. This digital camera can produce images with the best resolution: 4,352 x 3,264 pixels, and the low resolution of 640 x 480 pixels. In terms of video, the camera is capable of recording with 1920 x 1080 pixels with Full HD quality. This camera can produce images with JPEG and RAW. For video, these cameras produce MOV video format.
In terms of image capture, the camera's features a variety of modes like other digital cameras. There are various types of white balance modes such as Auto, Standard, outdoors, daylight, cloudly, until the fluorescent. You will also get a fairly complete digital filters from B & W, Sepia, Toy Camera, Retro, Color, Extract Color, Color Emphasis, High Contrast, until the fish eye. Pentax pinning premium features in this latest digital camera.
Features
This Retro Digital Camera from Pentax offers a 4x optical digital zoom plus digital zoom Clear Image technology brings you to capture more detailed images. A powerful processor capable of reducing noise and blur on shots and strengthen autofocus lenses. With additional power save mode, make this camera more efficient battery when used to take a moment on the trip. Unfortunately, for the business data transfer, Pentax provides only a USB cable and a 32 GB micro sd.
Performance
In its latest device, Pentax pinning back-illuminated CMOS image sensor with a resolution of 12 megapixels. This camera is able to produce the best quality images and display images, with lighting that is clear, sharp and accurate thanks to high-sensitivity  technology, low-noise characteristics and high-speed image data.
Conclusion
Interestingly, in this premium series, Pentax digital camera brings classic retro design. Pentax MX-1 is equipped with various features classy. There was no impression of old school metal and plastic body behind typical of the classic camera. Unfortunately, for a pocket camera, this digital camera is too heavy and bulky making it less convenient for traveling. However, for a pocket camera, this device is its fairly complete.
Read also "Review: Samsung WB110 – a Digital Camera with 26X Optical Zoom Features" and another digital camera reviews. Hopefully the article of Review: Pentax MX-1 – Digital Camera with Classic Retro design and Attractive Features useful for you.