Review: Panasonic Lumix DMC-F5 – a Cheap Digital Camera with Scene Selector Mode
|
Entry-level class be a class of the most fierce in terms of competition, including in the digital camera market. Labeled cheap price, the camera manufacturers are working hard to show product quality cameras even have a feature class. One of the producers are trying their luck in the entry-level class earlier this year is Panasonic. Sending Camera Panasonic Lumix DMC-F5 as a weapon, cheap digital cameras is equipped with a stylish and compact design along with a new image sensor is ready to accompany you, take a picture more clear and detailed.
Panasonic Lumix DMC-F5 camera comes with a stylish design and compact. The camera is a glance looks thin with typical curve fitting and color blend. This camera comes with an elegant shape measuring 97.4 x 58.0 x 21.5 mm with a total weight of 121 grams body. The camera also features a 2.7 inch color LCD screen 230 x 480 pixels with Brightness Control technology. The screen size of this gadget's typical digital camera. Interestingly, the manufacturer put the lights FLASH somewhat to the middle so as not hindered your fingers when holding the camera.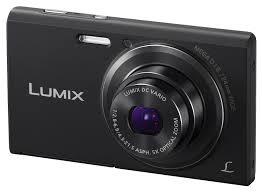 Image source: 
ephotozine.com
Panasonic neatly arrange the buttons on the device's settings. You will find a variety of distinctive settings buttons like the other digital cameras. In this latest Panasonic cameras, manufacturers also separate video record button, so you can instantly record the events in a row without the hassle of searching for the other modes. What is unique, there is a mode button which is also independent from the menu button. All buttons are designed for ease you press quickly. Overall this camera is very fitting shape of the hands. Comes with plastic material quality material, makes the whole body feels more solid.
Image Quality & Resolution
PanasonicLumixDMC-F5 cameras equipped with best image sensor technology. This digital camera can produce images of a resolution of 4,320 x 3,240 pixels largest to small 640 x 480 pixels. In terms of video, the camera is capable of recording with a resolution of 1,280 x 720 pixels and 640 x 480 pixels with HD quality. This camera can produce images with the JPEG format. For video, this cheap digital cameras produce Mp4 video format.
You will find a wide range of shooting modes for still the same as the previous series. There is a normal mode, macro, portrait, landscape, night portrait, night landscape until panorama mode. This cheap digital cameras also supported auto focus feature, best EXPOSURE CONTROL with ISO 100-6400.
Performance
In this new device, Panasonic tethered CCD sensor with a resolution of 14.1 mp. Seconded the best Venus Engine processor and Digital Single Lens VARIO 28-140 mm, this cheap digital camera able to produce the best quality images and displays clear images with lighting, more sharp and accurate. This technology also makes the quality of the images this Panasonic Lumix camera is not much different from a premium quality camera shots. Supplementary Auto Scene Selector mode, make this camera is able to detect the best camera setinggan automatically.
Features
Panasonic Lumix F5 camera is equipped with a 5x optical zoom, 4x digital zoom and Extra Optical Zoom 5,9x which brings you to capture more detailed images. Features Optical Image Stabilizer strong capable of reducing noise and blur on shots. Unfortunately for the problem of moving data, the latest digital camera is only equipped with a micro USB slot only.
Following a review video of the Panasonic Lumix DMC-F5
Conclusion
Among the proliferation of entry-level cameras in the market, Panasonic is back in 2014 with a series of Panasonic Lumix DMC-F5. Carrying a compact design, providing comfort for you when holding and photographing. For the kitchen runway, 14.1 megapixel image sensor considered qualified for a cheap digital camera. Interestingly, the manufacturer brings Auto scene selector mode is fairly cangih for an entry-level camera. With this mode, you can take pictures without having to make arrangements in advance to produce the best images. The camera will automatically make the appropriate arrangements and conditions of the object that you photograph.