Review: Olympus SZ-15 – a Digital Camera with Amazing Super Zoom Features
|
Digital cameras still one of the best selling gadgets in the market. Although the era of smartphones is predicted to replace the function of a digital camera. In fact the picture quality of digital cameras, is still better than the camera on a smartphone. Nonetheless digital camera, it is still has a weakness when aiming at a low light or distant objects. The quality of the lens is still limited and not as sophisticated lens DSLR camera, that can capture images in more detail becomes its own weaknesses a digital pocket camera today. This inspired Olympus to release a digital camera Olympus SZ-15. A new digital camera that features the best superzoom, in digital compact cameras-class.
The new Olympus digital camera comes with a sturdy design clad in black or silver matte finish. This camera comes with a compact form, like the minimalist DSLR camera, measuring 107.3mm x 68.8mm x 39.8mm with a total weight of 230 grams. The camera also features a 3-inch color LCD screen with Brightness Control technology. This camera is very fitting shape hands, comes with a comfortable grip section. Comes with quality materials, makes the whole body feels lighter yet sturdy.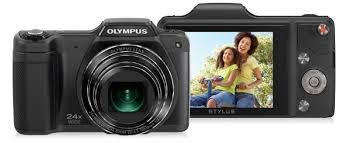 Image source: 
.getolympus.com
Olympus arranged in a neat and minimalist setting buttons on this device. You'll find the typical settings such as other digital cameras. In the Olympus SZ-15 camera, manufacturers also separate video record button, so you can instantly record the event, without the hassle of searching in a row of other modes.
Image Quality & Resolution
OlympusSZ-15 digital camera, equipped with best technology with combination of power, performance and price is certainly affordable. This digital compact cameras can produce images of the biggest resolution: 4.608 x 3.456 pixels to a small 480 x 480 pixels. In terms of video, these cameras capable of recording with a resolution of 1,920 x 1,080 pixels and 640 x 480 pixels with HD quality. This camera can produce images with JPEG and RAW. For video, these cameras produce MOV video format. In terms of ISO, this Olympus digital camera, equipped with ISO 100 to ISO 3200. Even for the manual ISO settings can be set quite high.
In terms of image capture, this camera equipped with a variety of modes like other digital cameras. There are various types of modes such as Intelligent Auto, Standard, Portrait, Landscape, Neutral, snow, museums, sunset, Panorama, Magic Filter, Beuty Mode, until 3D Photo. There are also features of the Auto white balance with the image sensor and white balance correction; Autofocus and manual focus; Exposure Control Systems, auto and manual ISO until Full HD video capture modes.
Features
Olympus SZ-15 is prepared to take pictures outdoors and indoors. To support it, the digital camera is equipped with a 25x optical zoom which brings you to capture more detailed images. In fact, this camera also features 48x Super Resolution Zoom which capable of producing images of the highest quality. A powerful processor capable of reducing noise and blur on shots. In terms of data transfer, this tiny camera only equipped with a USB slot and micro SD slot.
Performance
In its latest device, Olympus provides the best kitchen runway that overcomes these weaknesses in the previous series. Olympus tether CCD sensor with a resolution of 16 megapixels. Powered TruePic ™ III + IMAGE processor, and 4.5 to 108 mm lens, this camera is able to produce the best quality images with clear lighting, more sharp and accurate. It is getting easier thanks to, additional technologies: CCD Contrast Detection and Dual Image Stabilization.
Conclusion
If you still often have difficulty retrieving objects from a distance well, maybe you can try this digital camera. Olympus SZ-15 is prepared with a variety of features and the best technology to take close-up images with more detail. Although equipped with a lens with a quality Zoom feature, this camera comes with a minimalist design and fit as a digital pocket camera. The Olympus SZ-15 Digital Camera, will be released at an estimated price of $ 200 – $ 250.
Read also "Review: Canon PowerShot ELPH 130 IS – an Entry-Level Digital Camera with Wifi Features" and another digital camera reviews. Hopefully the article of Review: Olympus SZ-15 – a Digital Camera with Amazing Super Zoom Features useful for you.