Review: Fujifilm X-M1 – Compact and Powerful Digital Camera
|
Japanese Camera manufacturer, Fujifilm, seems worthy of appreciation for the efforts and innovations of superior products. Until now, Fujifilm still retain the character of the design in accordance with analog cameras Fujifilm ancient times, particularly in the generation of the X series.
Fujifilm X-M1, is a mirrorless interchangeable lens camera with a very small size and light weight. In fact, this camera is smaller than its predecessor, the X-10, and X20. However, the small body size does not mean X-M1 lost its fangs. On the contrary, the Fujifilm X-M1 seems to bring fresh air for the fans of the X series from Fujifilm.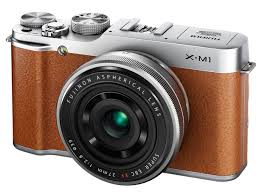 Image source: 
dassaro.com
Yes, the camera with a retro body is designed for high mobility. In this case, it is suitable to accompany your tour or traveling. X-M1 is equipped with Wi-Fi connectivity that will really help you to instantly share photos to social media, web, email, and photo sharing sites scattered around the internet.
In addition, on the back of the Fujifilm X-m1, there is an LCD screen with a resolution of 920,000 dots. Interestingly, X-M1 pioneered new innovations in the Fujifilm X series family, with an LCD screen that allows for 120 ° tilt-up and tilt-down 80 °. Thus, you can record images, from the side of the unique, even from extreme angles once.
Image Quality & Performance
Talking about the performance, the Fujifilm X-M1 is equipped with a resolution of 16.3 megapixels, is able to compete with its predecessor, the X-Pro1 and X-E1. As most small mirrorless camera, from Fujifilm X series lineup, the quality should be taken into account. In record speed, image sharpness, color accuracy, and effectiveness of the ISO is really classy.
Just like the previous X series line, to keep the resulting image-quality, Fujifilm, embed EXR II processor as found in the X-Pro1 and the Fuji X-E1. This makes this camera is able to work more quickly with a shutter lag of 0.05 seconds, and a maximum continuous burst speed of up to 5.6 frames per second for a maximum of 30 images.
One thing that also should be appreciated is the ISO performance. Fujifilm X-M1 offers an ISO range of 100 (L), 200-25600 (H), the performance is quite good. In such a large ISO: 12800, noise can pressed without reducing the detail in the center of the photo area. So also with reduced detail in the edges are not too significant. Used when shooting in low light condition once, Fujifilm X-M1 is able to deliver good results.
As the release of the Fujifilm X-M1, Fujifilm also introduces Fujinon XF 27mm pancake lens Super EBC f2.8, and Fujinon zoom lens XC 16-50mm Super EBC f3.5-5.6, OIS (24mm-76mm equivalent) which is combined as a kit lens for X-M1. XC16-50mm lens is constructed with 12 optical glass elements, aspherical and ED. Reading speed was very optimal focus with high precision motors, coupled with Optical Image Stabilizer contained on this lens. The second photo below, showing the performance of the lens XC 16-50mm.
Features:
Sensor / Resolution: Sensor CMOS APS-C 1X-Trans, 16 Megapixel
ISO:200 – 25.600
Shutter: 30-1/4000
Kit Lens : 27mm dan 16-50mm (24-76mm eq.)
Auto FocusContrast Detection: Area (49 areas in 7 x 7 grid), Multi; Changeable size of AF frame; Single AF, Continuous AF, Tracking AF, Manual Focus
Screen: LCD920,000 dots tilts 120 ° tilt-up and tilt-down 80 °
Connectivity: Built-in Wi-Fi for image transfer to smartphone, tablet or PC
Dimension: 117 x 67 x 39 mm
Conclusions
Fujifilm X-M1 camera has WiFi connectivity capabilities, which is starting in the world of photography is necessary to enable us to transfer the image to a smartphone or tablet or computer to be shared on the various social networking sites such as Facebook, Instagram and kind. This would be easier if we had had a camera Wifi, because all the images can be directly transferred without cables, and memory card still inserted in the camera.
The picture quality is beautiful with a good dynamic range gives the images a more perfect for all purposes, therefore the Fujifilm X-M1 camera is equipped with an LCD that serves to preview or review the images. LCD from Fujifilm X-M1 camera can be rotated so that it can face up or down, it enables users to take photos or photographers in unusual circumstances. One lacked of this camera is not equipped with an optical viewfinder like a DLSR camera, but with a 3-inch LCD, maybe we too will rarely use the optical viewfinder if available.
We can take a still picture or recording a video with this camera. Especially for video, this camera can record Full HD video at 1920 x 1080 resolution with 30 frames per second, although not as good as the main video camera, but we can still get a good video for documentation of family, travel or personal activities. For a more professional video results, we suggest using these types of video cameras natively with better quality.
Read also "Review: Canon PowerShot S120 – a Qualified Digital Camera, with Wifi and SmartAuto features" and another digital camera reviews. Hopefully the article of Review: Fujifilm X-M1 – Compact and Powerful Digital Camera useful for you.