Review: Canon PowerShot S120 – a Qualified Digital Camera, with Wifi and SmartAuto features
|
As a major manufacturer in the industry of photography, Canon continues to bear a wide range of products to satisfy the desires of the users of digital cameras. Treading the end of 2013, Canon continues to fill the various classes of camera in the gadget market products for high-end to entry-level. Now this giant manufacturers began to concentrate compete in the digital camera market. This can be evidenced by the presence of a variety of new innovations or refreshment, in class pocked-sized camera like the Canon PowerShot S120 camera products.
Canon released PowerShot S120 comes with various changes and development of the previous series, the PowerShot S110. So, what about the reliability of this camera?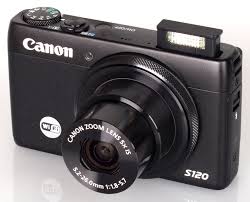 Image source: 
ephotozine.com
Design and Control
Canon PowerShot S120 camera comes with a compact design that is fashionable. This camera comes with a size of 100.2 x 59.0 x 29.0mm with a total weight of 217 grams. Quite heavy for a pocket camera. However, the shape of this digital camera, is very fitting with the hands. The camera also features a 3-inch color LCD screen with Brightness Control technology. Comes with quality materials, makes the whole body feels more solid and sturdy.
Canon also arranged in a neat and detail settings buttons on this device. You will find a variety of distinctive settings buttons like the other digital cameras. Canon attention to the comfort of a button on this compact digital camera. As with other series, Canon also separate video recording button, so you can instantly record the event, without the hassle of looking at a row of other modes. Canon also put the camera flash is uniquely similar to other premium camera.
Image Quality & Resolution
Canon PowerShot S120 step further with image quality, produced by a 12.1 megapixel CMOS sensor of high sensitivity, and DIGIC6 Image Processor, which collaborated to create Canon's HS System, providing a more natural color with high clarity even in low light conditions. Having the ability to shoot high definition on speed: ISO 80-12800, and the ability to capture full HD 1080 / 60p realistically. The power of the camera lens f / 1.8 captures the subtle nuances in low light, and a 24mm wide-angel lens and 5x Optical Zoom offers a high flexibility in shooting.
Features
As a relatively new camera, do not be surprised if this camera is able to indulge in total users with ease of sharing wirelessly over Wi-Fi is built-in as well as the convenience of operating the camera with the touch screen. Built-in Wi-Fi which is a major feature of digital cameras today, can easily help you share through your camera to Facebook, Twitter, Youtube, Flickr and so on. It also can be easily shared with other devices such as tablets, smartphones, network PCs, and PictBridge certified.
Performance
With Canon PowerShot S120 camera you will be offered with a new experience shooting images at high speed and continuous, plus high-speed autofocus and an amazing ability to focus even when you aim at the subject directly. The operation is intuitive and clarity offered by the touch screen LCD display 922,000 dot, 3.0-inch wide so help facilitate the operation of the camera, especially with the touch screen shutter feature is very convenient.
Intelligent IS technology prevents the appearance of blur in any situation it is certainly a plus for this pocket camera. In addition to a new mode "starshooting" which gives experience shooting the night sky with the results like a pro photographer. Not only up there, this camera also provides the Background Defocus mode which gives blur in the background with a very beautiful and amazing. HDR shooting is a pro-style shooting technique else made easier, with some creative finishing options.
Conclusion
For those of you who are looking for a digital camera fitted design, with best quality, this camera fits you have. Canon PowerShot S120 camera is equipped with High-sensitivity CMOS image sensor of 12.1 megapixels. Pocket camera made ​​by Canon is capable of recording images with a very natural color detail. Wrapped with a stylish design and button layout is attractive, making this camera suitable for a novice user of digital cameras. The feature SmartAuto with 58 scene modes and Creative Shot mode further strengthen shots of this device. The Canon PowerShot S120 will be released at an estimated price of $ 450. The price is quite expensive but comparable to the performance and quality.
Read also "Jackson JS32RT Dinky Electric Guitar Review" and another digital camera reviews. Hopefully the article of Review: Canon PowerShot S120 – a Qualified Digital Camera, with Wifi and SmartAuto features useful for you.