Review: Canon PowerShot D30 – Canon Digital Camera Features Waterproof up to 25 meters
|
After the Nikon and Olympus, Canon manufacturers now turn to join the release of the latest digital cameras are sturdy and solid for adventurous friends. Comes with a series Canon Powershot D30, a camera is claimed to be the best waterproof camera this time. This waterproof camera also promises the ability of waterproof to a depth of 25 meters. Not only was this Canon digital camera is also equipped with resistance to impact to a height of 2 meters. And for those who often go to a cool area, this camera can withstand temperatures of up to minus 10 degrees Celsius. With such a wide range of outdoor features, this camera is ready to take you exploring in all conditions.
Canon PowerShot D30 camera comes with a compact design that is stylish. This camera comes with a size of 109 x 68 x 28 mm with a total weight of 218 grams. This Canon digital camera also features a 3-inch color LCD screen with Brightness Control technology and PureColor II LCD which displays more detailed shots. This camera is very fitting shape hands with the grip that makes Amda comfortable and sticky fingers when holding the camera. Comes with quality materials, makes the whole body feels more sturdy but not too heavy so it is easy to carry.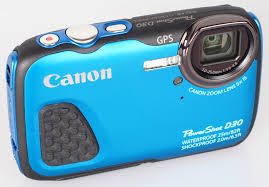 Image source: 
ephotozine.com
Despite carrying the concept of outdoor digital camera, Canon is also set in a neat and detail settings buttons on this device. You will find a variety of distinctive settings buttons are convenient as other digital compact cameras. As with other series, Canon also separate video recording button, so you can instantly record the events in a row without the hassle of searching for the other modes. Canon also redesigned slightly more pronounced keys to allow you to press quickly.
Image Quality & Resolution
Canon digital camera is equipped best technology to capture images in a variety of conditions and opportunities. This PowerShot series digital cameras can produce images of the biggest resolutions 4000 x 3000 pixels up to small 480 x 480 pixels. In terms of video, the camera is capable of recording with a resolution of 1920 x 1080 pixels and 640 x 480 pixels with Full HD quality. This camera can produce images with the JPEG format. For video, this camera produces Mp4 video format.
In terms of image capture, the camera's features a variety of modes like other digital cameras. There are various types of modes such as Auto, Standard, Portrait, Landscape, Neutral, up to Panorama.
Digital compact camera is an entry-level may not offer many features like other PowerShot series. One of the things that is quite admirable of Canon PowerShot D30 is a feature SmartAuto with 32 scene modes. The mode can be enabled by simply pressing one button and you will get the best picture.
Performance
As with its predecessor, the Canon PowerShot D30 digital camera is equipped with a sensor-type CMOS BSI of 12 Megapixel and DIGIC 4 image processor With the DIGIC 4 processor and Intelligent IS technology, making the entry-level digital cameras made ​​by Canon is capable of recording images with a very natural color detail. As a new digital compact camera, this device can be relied upon to replace the functions of a smartphone camera in taking the moments of your trip.
Features
Canon digital camera for outdoor offers a 5x optical zoom plus digital zoom Clear Image technology brings you to capture more detailed images and details. A powerful processor capable of reducing noise and blur on shots. With the addition of Eco save mode, making it more efficient battery camera used to take a moment when on the trip. Interestingly, unlike other cheap digital cameras, Canon digital camera is already equipped with GPS and wifi features that allow you to move data.
Following a review video of the Canon PowerShot D30
Conclusion
No one doubts the power of Canon digital camera as a producer this time. Armed with a Canon PowerShot D30, this device is intended for you, especially the adventurous divers. In contrast to most existing outdoor digital camera, Canon claims the camera is able to dive deeper without any aid accessories. It is increasingly interesting, given the shape of this camera is quite fashionable not too stiff so it is still comfortable for daily camera. Canon PowerShot D30 camera will be released at an estimated price of $ 330. Affordable prices that are comparable with the performance and quality are presented.