Review: Canon Ixus 265 HS – Small Digital Camera With 12x Optical Zoom and Wifi
|
Starting in 2014, manufacturers Canon introduced its newest product line at CES 2014 One introduced in this annual event is a digital camera Canon IXUS 265 HS. Comes with the concept of a pocket camera, the device is equipped with the latest superzoom features good enough for a small camera.
Comes with the latest fashion and filters, this new digital camera is suitable for daily camera easy to carry. Wifi and NFC additional features even easier for you when moving data. Armed with these developers, Canon confident release this device at an affordable price in the grade digital compact cameras.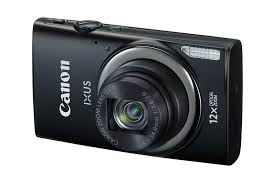 Image source: whatdigitalcamera.com
Design and Control
Canon IXUS 265 HS camera is designed with a compact design that is fashionable. Canon digital camera comes with a size of 99.7 x 57.6 x 22.4 mm with a total weight of 147 grams. Light enough for a pocket camera. Nevertheless, Shape-quality digital camera is very fitting to the shape of the hand that was not too thick or thin. The camera also features a 3-inch color LCD screen with Brightness Control technology. Comes with quality materials, makes the whole body feels more solid and sturdy.
Canon still arranged in a neat and detail key – the key of the device is the same setting as the other IXUS series. Canon attention to the comfort of a button on this compact digital camera. So the look is not too thick but not too flat so easily when pressed. As with other series, Canon also separate video recording button, so you can instantly record the events in a row without the hassle of searching for the other modes. Canon also put the camera flash in the corner of the detail section. Unfortunately this placement a little disturbed when your fingers grasp the Canon digital camera.
Image Quality & Resolution
Canon's latest digital camera is armed with the best technology for a digital pocket camera. The PowerShot series digital cameras can produce images of the biggest resolutions up to 4608 x 3456 pixels which is a small 640 x 480 pixels. In terms of video, the camera is capable of recording Full HD resolution 1920 x 1080 pixels and 640 x 480 pixels with HD quality. This camera can produce images with the JPEG format. For video, this camera produces video format MP4.
In terms of image capture, the camera's features a variety of modes like other digital cameras. There are various types of modes such as Auto, Standard, Portrait, Landscape, Neutral, up to Panorama. Smart Auto mode the additional allow you to take pictures quickly without having to adjust the settings of this Canon digital camera. The mode can be enabled by simply pressing one button and you will get the best picture. Creative Shot the extra modes make a camera like HDR shots.
Performance
Digital camera Canon IXUS 265 HS is equipped with High-sensitivity CMOS image sensor of 16.1 megapixels, and image processor DIGIC4 +. With the DIGIC processor, making the middle class made ​​by Canon camera is capable of recording images with a very natural color detail in low light conditions. As a digital compact camera, this device can be relied upon to replace the functions of a DSLR camera in taking the moments of your daily activities.
Features
Canon digital compact cameras made ​​these offers 12x optical zoom plus 4x digital zoom. Supplementary Clear Image digital zoom technology to bring you to capture more detailed images. Additional features Image Stabilizer and Intelligent IS capable of reducing noise and blur on shots. With the addition of Eco save mode, making it more efficient battery camera used to take a moment when on the go. Manufacturer Canon also renew wifi and NFC features on this tiny gadget. With Wifi Features, you can directly post your shots directly into social media.
Here's a review video of the Canon Ixus 265 HS
Conclusion
Canon overhaul done at product manufacturers to improve product quality. Canon IXUS 265 HS becomes one proof Canon wants to always be the best. Armed with the concept of compact cameras, optical zoom Vendor pinning feature is somewhat qualified. Not only that, the features are embedded wifi and NFC becomes obvious distinguishing device and the other digital camera devices. Latest Canon digital camera, Canon IXUS 265 HS will be released at an estimated price of $ 200. Affordable price comparable to the performance and quality.