Restoring The VOX ToneLab ST To Factory Settings
|
Last Updated on June 20, 2022 by Nick
The Vox Tonelab ST is a multi-effects unit containing just about every type of guitar effect out there. This super-portable Valvetronix multi-effects processor boasts 33 amp models, 25 effects, and an ASIO-compatible USB interface to manage the editing of your presets on a computer. Designed for mobility, the compact ToneLab ST is made for guitarists on the go. The rugged metal body will stand up to life on the road, and the expression pedal carries on the fine tradition of VOX wah pedals.
According to several user reviews of the VOX ToneLab ST, some users have praised it for the nice range of tonal possibilities; USB computer connection; Compact size; warm tone and accurate amp modeling. But some users also have complained for the limited FX combinations; No individual FX switching; Preset Patches Are Poor; Only One Audio Output.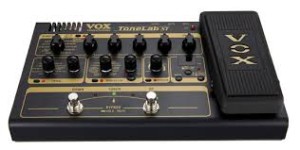 Image source:
worldmusicsupply.wordpress.com
Factory Reset:
To restoring the factory of VOX ToneLab ST multi-fx, first power on while simultaneously holding the EXIT/TUNE switch and EXP PARAM screen. When the UP/DOWN pedal LEDs blink, release the switches. Finally, press the WRITE switch to start initialization of the program. The Factory Reset procedure is complete.
Warning! This procedures will return all of the settings to the values when the VOX ToneLab ST was shipped from the factory. Hopefully the article of "Restoring The VOX ToneLab ST To Factory Settings" was useful.
Reference: VOX ToneLab ST Manual