Restoring The TC-Helicon VoiceTone Create XT to It's Factory Presets And Settings
|
Last Updated on June 20, 2022 by Nick
The VoiceTone Create XT is marketed with the awkwardly phrased, "Hit Producer-in-a-pedal." This vocal effect processor improves on the original Create by incorporating HardTune (used by artists such as T-Pain and Kanye West) and the rich, front-of-house quality reverb from its famous big brother, VoiceLive 2. The same features that made the original VoiceTone Create pedal a prosumer's favorite are back again; 100 factory styles, 10 presets, reverb effects, tempo controlled delays, mod effects such as detune, flange, doubling, rotor, transducer effects, and a decent mic preamp with phantom power to keep noise low and clean. In a nice metal case, the TC Helicon VoiceTone Create XT has something for every vocalist, it doesn't matter what your style is.
According to several user reviews of The TC-Helicon VoiceTone Create XT, some users have praised it for the good soundswiss knife; Professional Function; sturdy and compact case; Versatile. Also, some users have complained it for the feedback in the monitors is unreal, when using it live.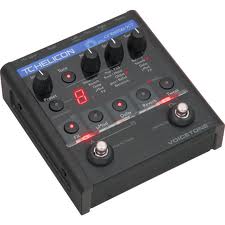 Image source:
music123.com
Factory Reset:
To restoring the factory settings of The TC-Helicon VoiceTone Create XT, you must plugging the power adapter while simultaneously holding the FX and TWEAK buttons. The Factory Reset procedure is complete, it only takes a couple seconds.
Warning! This procedure will returning the presets and settings of TC-Helicon VoiceTone Create XT to It's Factory state. Do not use this function unless you are certain that you want to do this. Hopefully the article of "Restoring The TC-Helicon VoiceTone Create XT to It's Factory Presets And Settings" was useful.
Reference: VoiceTone Create XT Manual