Restore the Akai MPK249 MIDI Keyboard Controller to it's Factory Default Presets
|
New for the year 2014, Akai Professional has launched their brand-new MPK II series of USB keyboard/pad controller models. This includes the 25-key MPK225, 49-key MPK249 (which we'll be talking about in this article), 61-key MPK261 and lastly an update to their compact controller, the Akai MPK Mini MkII keyboard. Akai Professional's MPK controller keyboards have become standard equipment in many professional MIDI rigs. The latest MPK249 rocks improvements in every major area, from its new RGB-illuminated MPC-style pads to the superb action of its aftertouch-enabled 49-note keybed. The MPK249 gives you boatloads of workflow-enhancing features such as MPC Note Repeat, MPC Swing, and an arpeggiator for complex rhythmic and melodic manipulation.
According to several user reviews, they have praised an Akai MPK249 for the screen is clearer; The keys do feel slightly more comfortable and are some of the best on the market; Slimmer in size, which is always nice for portability or fitting it into your studio; Software bundle is excellent if you're looking for additions to your DAW and VST's. Also, some users have complained it for the The drum pads are fancy when they're lit up, but Akai never stated that they improved the overall quality of them in terms of velocity or pressure sensitivity.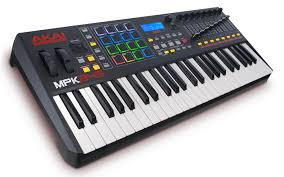 Image source: 
akaipro.com
Factory Reset:
To restoring an Akai MPK249 to it's factory settings, first press the [PRESET] button and then press the [LEFT CURSOR] button so "Factory Settings" appears in the display. Select "PRESETS" by turning the [VALUE DIAL]. To execute the factory reset, press the [VALUE DIAL].
Warning! This procedure will restore MPK249 to it's factory default Presets (which overwrites those you have saved). Do not use this function unless you are certain that you want to do this. This procedure also applies to the Akai MPK261 unit. Hopefully the article of "Restore the Akai MPK249 MIDI Keyboard Controller to it's Factory Default Presets" can help you.
Reference: Akai MPK249 manual