Restore a Panasonic Lumix DMC-LX100 Camera To its Factory Settings
|
Panasonic is known as a manufacturer of Micro Four Thirds cameras, and they were using the Micro Four Thirds sensor High Sensitivity MOS on the 6th generation of the LX series cameras, which is a high-end compact cameras in the Lumix DMC LX100. The lens used in this compact camera is a LEICA DC VARIO-SUMMILUX F1.7-2.8 (35mm camera equivalent: 24-75mm) with the Venus Engine is able to take a 12.8 Mp resolution photos, which has a noise reduction systems such as Multi Process NR, Random Filter and Aperture Filters.
The use of 9-blade aperture diaphragm enables these cameras produce a bokeh effect with a smooth circle. Landscape photos can be taken on a 24mm ultra wide angle in the aspect ratio of 4: 3, 3: 2 or 16: 9 because of the multi-aspect sensor. Panasonic DMC LX100 has LVF (Live View Finder) with a 2764K-dot high resolution and color reproduction to 100% color. 16: 9 Wide Screen LVF can provide augmentation to .1.39x / 0.7x (35mm camera equiv.) And 100% viewing space. Its LCD screen measuring 3 inches with XGA resolution 920K dot touch LCD type.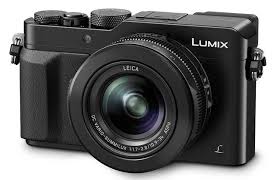 Image source: 
ubergizmo.com
LX100 is also capable of video recording of 4K (4K qFHD: 3840 × 2160, at 30 fps (NTSC) in MP4) with a new feature called "4K Photo" to take pictures of 3840 × 2160 8-megapixel equivalent of 4K video. Even LX100 also able to provide High speed burst shooting speed at 11 fps at full resolution. In addition LX100 also includes support for Wi-Fi ® (IEEE 802.11 b / g / n) and NFC (Near Field Communication) for easy sharing of photos and videos. LX100 is also able to convert RAW images to JPEG on the camera and includes a clip-on external compact flash (GN7 / ISO100 · m, GN10 / ISO200 · m)
Factory Settings:
Following the procedure for restore the Lumix DMC LX100 to its default settings:
First, the camera must be in "record" mode
Press [Menu/Set] button
Press [Down] button to select the "SETUP" menu, that is the one with a "spanner" icon.
Now press the [Right] button
Press few times [Down] button until you see "RESET" option there
When you select the RESET, press [Right] button and then select "YES"
Press [Menu/ Set] button
Read also "How to Reset Panasonic Lumix DMC-GX7 Mirrorless Micro Four Thirds Digital Camera" and another user guides. Hopefully the article of Restore a Panasonic Lumix DMC-LX100 Camera To its Factory Settings useful for you.