Resetting your TC Electronic Staccato'51 Bass Amp Head
|
Rocco is best known for holding down the bass in Tower of Power – a band he joined at 14 – and is a much renowned bassist. Rocco has defined his own style and become synonymous with the much-imitated 'Finger Style Funk' that he pioneered back in the '60s and '70s. Now TC Electronics and Rocco have joined forces to make Staccato'51—a custom-tuned version of the RH450 that's been made to Rocco's exact specification and ear. At first glance, the Staccato '51 (8.8 pounds; 450 watts into 4 ohms) looks very much like its brother RH450, except that the Staccato case is red instead of black. You will get a great combination of full-bodied tone, fast response, and the kind of flexibility that makes this head work great both onstage and in the studio. Designed to suit a funk-bass legend, the Staccato'51 works great for any style!
According to several Staccato'51 Bass Amp Head reviewers, some users have praised it for the quality blossoming-bottom with fantastic punch, the highs are very musical with excellent bite; the incremental rotary knobs.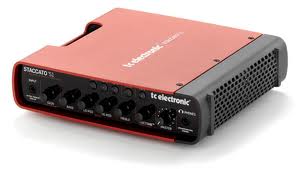 Image source:
thomann.de
Factory Reset:
To restoring factory settings in your Staccato'51 amp, just simply power on while simultaneously holding all three preset buttons. This procedure also can running on the RH450 and RH750. Hopefully the article of "Resetting your TC Electronic Staccato'51 Bass Amp Head" was useful.
Reference: TC Electronic support