Resetting Yamaha PSR E333 61-Key Mid-Level Portable Keyboard
|
The Yamaha PSR-E333 Portable Digital Keyboard is a versatile instrument for the beginner or the more accomplished player. The Yamaha PSR E333 has this great feature which is more commonly found on more expensive portable keyboards. With 497 real sound voices the Yamaha PSR E333 has sufficient scope to cater for most types of music. The Yamaha PSR-E333 weights 10 lbs, which is slightly lighter than the average for all Portable Keyboard Digital Pianos and Keyboards. With a vast array of orchestral, synthesizer, and solo instrument voices the Yamaha PSR E333 is certainly one of the best featured portable keyboards in it's class.
According to several user reviews, they have praised Yamaha PSR E333 for the better Piano Sound; Easy to Use; Improved Xglite Sound Set; Lightweight; Portable; Sound And Feel Like 1990s; Touch Sensitive Keys. Also, some users have complained it for the limited Sound Selection; Limited Styles; Minor Change; No Pitch Bend; Only For Home; Small Speakers; Unrealistic sound .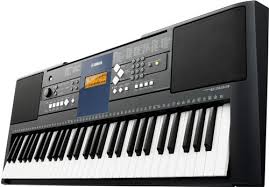 Image source:
pssl.com
Factory Reset:
To restoring Yamaha PSR E333 to it's factory settings, just simply  power ON while simultaneously holding the Rightmost White Key on the keyboard (C7) along with the three rightmost black keys (F#6, G#6, and A#6) until "Clr" appears on the display. 
Warning! This operation will cause restore All Parameters to Their Initial Default Values. Do not use this function unless you are certain that you want to do this. This procedure also applies to the YPT-330 unit. Hopefully the article of "Resetting Yamaha PSR E333 61-Key Mid-Level Portable Keyboard" can help you.
Reference: Yamaha PSR E333 manual