Resetting Yamaha NP31 Portable Keyboard
|
Last Updated on June 18, 2022 by Nick
Yamaha digital pianos are widely considered to be the best digital pianos in the market ahead of companies like Kurzweil and Roland.  They've been making a wide-range of digital pianos for an awfully long time. The Yamaha NP-31 digital piano is part of the Yamaha 'Piaggero' series, which is one of Yamaha's many lines. Piaggero is simply a mash of 'piano' and 'leggero' – Italian for 'light' – and a perfect combination of Yamaha's stereo grand piano style and lightweight portability, which is its running theme. The Yamaha NP-31 weights 12.56 lbs, which is the average for all Portable Keyboard Digital Pianos and Keyboards.
According to several user reviews, they have praised Yamaha NP31 for the sounds close to a real paino; Good Quality, Reliable; key sensitivity and pressure suitable for children. Also, some users have complained it for the limited User-Interface for stuff like metronome or other typical electronic keyboard function; In australia they don't get the sustain pedal which they thought was a bit of a let down.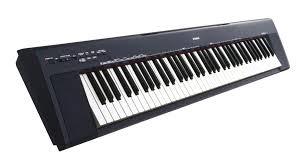 Image source:
mainstreetmusic.com.au
Factory Reset:
To restoring Yamaha NP31 to it's factory settings, just simply power ON while simultaneously holding the Highest white key.
Warning! This operation returns all settings you've made in the menus to their factory-set condition. Do not use this function unless you are certain that you want to do this. Hopefully the article of "Resetting Yamaha NP31 Portable Keyboard" can help you.
Reference: Yamaha NP31 manual