Resetting Vox StompLab IIG Modeling Effects Pedal
|
Last Updated on June 20, 2022 by Nick
Vox StompLab IIG designed with a mature concept, with the level of detail accuracy. Start of the shape, materials, features, sound, and aesthetics has to offer. This can be proved from the minimalist shape, features a menu operation, and design of the Vox wah pedal classic mini style. Figure of the exterior was coated with flat steel material, so it is quite strong and safe when the foot rests on this effect.
For performance, StompLab IIG equipped with various features such as: 100 preset effect programs, 104 type modeling effects, 20 user programs, 8 expression pedal, 44 amplification, 12 speaker cabinets, modulation 9, and 18 types of distortion drives. Very complete for the class of digital effects. When tested, Vox StompLab IIG able to produce a sound character that is thick and real. Equivalent to the character stomp box effects, of analog type. The sound of noise and 'humming' that is not comfortable can be muted by the noise reduction is on the menu this effect. So when play was safely under control.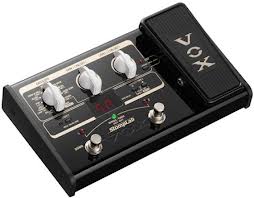 Image source: mericanmusical.com
Other packages, StomLab IIG is also equipped with a chromatic tuner that features three LED indicator lights. That will facilitate setting up the strings on the stage or the studio while in the dark though. For comfort on stage or do not want to disturb other people around, the 'mute' is helpful when the effects setup. To operate, this effect requires power 9 volt DC electrical power to activate it. With no electric power, the effect of this guitar can also be operated using battery power as much as four AA-sized pieces. So the guitar effects StompLab GII can be easy to take anywhere without needing an electric current.
Factory Reset:
Power ON while simultaneously holding the ∧ and ∨ buttons
The program/value display will indicate "rL", and the TUNER # and ∂ LEDs will blink. Release the buttons you had been pressing.
Press the ∧ button and the display will indicate "Ld" and reloading will begin.
When the factory reset has been completed the program/value display will indicate "CP ", and the StompLab will automatically enter Program select mode.
Warning! When you execute this operation, all stored settings will be erased and returned to the factory settings. This procedure also applies to the StompLab IIB, StompLab IG, StompLab 1B units. Hopefully the article of Resetting Vox StompLab IG Modeling Effects Pedal useful for you.
Reference: Vox StompLab IG manual