Resetting Suzuki MDG-200 Micro Grand Digital Piano
|
This newest addition to the Suzuki digital piano family is perfectly portioned. It combines technically advanced performance features with the timeless elegance of a grand piano. The Suzuki MDG-200 Micro Grand Piano is designed to fit just about any room because it's only 2′-5′ deep and it's stylish design will beld in with any decor. Black High Gloss hand rubbed finish adds both warmth and charm to your interior decorating plans.
The Suzuki MDG-200 has 88 keys with 3 pedals. The Suzuki MDG-200 weights 165 lbs, which is roughly the average for all Grand Digital Piano Digital Pianos and Keyboards. The Suzuki MDG-200 has a maximum polyphony of 64. Digital signal processing (reverb, chorus) and EQ allows you to sound sculpt your performance to your personal style and taste.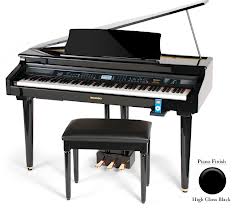 Image source:
suzukipianos.com
Factory Reset:
To restoring Suzuki MDG-200 to it's factory settings, first press [SETUP] button and then select "Reset" and press the [ENTER] button. The display will show "no: Reset", use the [+, –] buttons to select "Yes" and then press the [ENTER] button to confirmed. Finally, To execute the factory reset, press the [ENTER] button again.
Warning! This operation returns all settings you've made in the menus to their factory-set condition. Be sure that you want to do this. Hopefully the article of "Resetting Suzuki MDG-200 Micro Grand Digital Piano" can help you.
Reference: Suzuki MDG-200 manual