Resetting Roland RMP-12 Marching Rhythm Coach
|
RMP-12 Rhythm Coach is a new dimension of portable sound and expressive. RMP-12 is the first electronic marching percussion instrument in the world with a multi-layer mesh head technology patented by Roland. Allows the drummer to practice longer with less feelings of stress and tiring. Adapted to the field of education / learning, RMP12 also increases playing comfort, and versatile expression for rehearsals and performances.
RMP-12 offers a high quality sound like marching snares, toms, bass drums, cymbals, and drums / other percussion instruments. Also contains various Latin percussion instruments and electronic sound. 4 key memory that can store your favorite sound, and use it instantly when you show. The Rhythm Coach helps you to establish speed, stamina and accuracy. In addition to training with coach rhythm you can also practice with a metronome Time Checker that you can use it at any time. Score Checker Time will assess your level-accuracy, it is one of the menus of the rhythm coach. Others include UP / Down Automatic, which speed up or slow down the speed step by step, and Dynameter which shows the dynamics of your shot on the screen.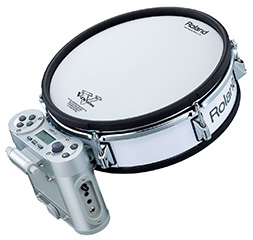 Image source: 
forum.lowyat.net
Factory Reset:
Hold down the [BEAT] button
Select [Reset…] by turning the select knob, and then press the select knob
When the display ask you "Sure?", turn the select knob to choose "[YES]," and then press the select knob.
Warning! When you execute "Factory Reset", the settings you made will be lost. So be sure to back up any information you wish to keep. Hopefully the article of Resetting Roland RMP-12 Marching Rhythm Coach useful for you.
Reference: Roland RMP-12 manual