Resetting Rocktron Utopia G200 Guitar Multi Effects Pedal
|
Last Updated on June 20, 2022 by Nick
The UTOPIA G200 is a preamp / multi-effects pedal format, that inspires confidence from unpacking the box! The Utopia series is easy to use and operate. Fully programmable, the G Series features easy-to-read Cool Blue LCD Display, (no cryptic tables to decipher or matrix-led crossword puzzles – just plain easy). Everything is built in a metal shell which bear unflinchingly the worst attacks of feet among the most nervous of us. Everything is riveted on the sides, and it is clear that the equipment was manufactured in order to last over time. The G200 includes 128 total user programmable presets. The G200 provides USB audio recording and playback connectivity, built in tuner, glow in the dark pedalboard markings, illuminated footswitches, MIDI in and MIDI out/thru, assignable effect on/off, tap delay note quantization (1/16, 1/8, triplet, ¼, ½ and whole).
Acording to several user reviews, they have praised Rocktron Utopia G200 for the robustness of the machine; The factory sounds are usable; The dynamic sound despite the lack of lights; The whole "professional" machine; No compression exaggerated; The expression pedal; The comprehensive connectivity. Also, some users have complained it for the weight; Programming ultra-hard; Having to program their sounds from other existing; The screen too small; Lack of built-in tuner; The price a little high but justified by sound.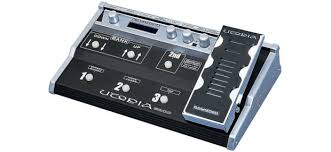 Image source:
reverb.com
Factory Reset:
To restoring Rocktron Utopia G200 to it's factory settings, first select "FACTORY RESTORE" by turning the [FUNCTION SELECT] knob. Then, select "ALL R ESTORE 0 " by turning the [PARAMETER SELECT] knob. Next, use the [PARAMETER ADJUST] knob to enter the number "22" and then press the [STORE] button to start the Factory Reset operation.
Warning! This procedure will permanently erase all presets and replace them with the original factory presets. Do not use this function unless you are certain that you want to do this. This procedure also applies to the Utopia G200B, Utopia B100, Utopia B200, Utopia B300 units. Hopefully the article of "Resetting Rocktron Utopia G200 Guitar Multi Effects Pedal" can help you.
Reference: Rocktron G200 manual