Resetting Line 6 AMPLIFi FX100 Guitar Multi Effects Pedal
|
Last Updated on June 20, 2022 by Nick
Building on the introduction of AMPLIFi amplifiers at the 2014 NAMM show, the AMPLIFi FX100 multi-effects pedal offers guitarists a cutting-edge new way to dial-in amazing tones and effects. The Line 6 AMPLIFi FX100  is the newest of the Amplifi line delivered to us by Line 6. The FX100 comes with plenty of bells and whistles including 8 simultaneous effects, over 200 amps, effects and speakers, access to 100 onboard presets (unlimited presets via the AMPLIFi app) along with Bluetooth streaming audio for playing along with your music library (compatible with iOS, Android, Mac and PC).
The main draw of the AMPLIFi FX100 – apart from its multitude of out of the box features – is its cloud-based approach to tone creation and sharing. The effects unit leverages the connected world of iOS devices to grant players access to a wealth of professional-quality tones in the cloud, as well offering intuitive creation of brand new sounds, the ability to match the signature tones of fretboard masters from tracks in a user's music library, and share favorites with fellow musicians via an online community.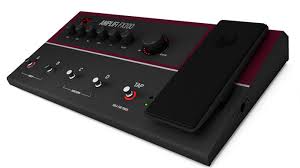 Image source:
geargods.net
Factory Reset:
To restoring Line 6 AMPLIFi FX100 to it's factory settings, just simply power ON while simultaneously holding the [Master Volume] knob and the [TAP] switch.
Warning! This operation returns all settings you've made in the menus to their factory-set condition. Do not use this function unless you are certain that you want to do this. Hopefully the article of "Resetting Line 6 AMPLIFi FX100 Guitar Multi Effects Pedal" can help you.
Reference: Line 6 AMPLIFi FX100 support