Resetting Kurzweil SP4-8 88 Key Stage Piano
|
The SPS4-8 looks attractive as a portable piano and is fairly lightweight at just 41lbs not including the furniture stand which comes with the piano at no extra charge. The Kurzweil SP4-8 gives you Kurzweil's world-class sonic mojo in an affordable, portable package, making available to a new generation of players the same soundset featured in Kurzweil's acclaimed PC3 line of professional keyboards. The SPS4-8 has an easy to read LCD user digital display screen which allows the player to see what functions are being selected and what's going on in the piano where many digital pianos in this price range either have no digital display or have simple LED displays which can be hard to understand.
In the case of the SP4-8 digital piano, it is simple in its concept by focusing directly and exclusively on producing higher quality stereo instrument sounds and effects. What I mean by that is there are no automatic drum rhythms, no auto-chords, no recording features, no USB flashdrive recording, no built-in lessons or educational features,  and no 3-pedal option as it only comes with one sustain pedal. The piano can generate 128 sounds, which is the average for all Stage Digital Piano Digital Pianos and Keyboards along with another 64 authentic stereo instrument sound combinations (2 or more preset tones at one time).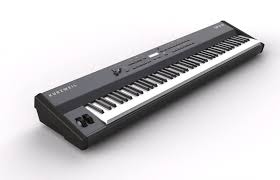 Image source:
magazine.dv247.com
Factory Reset:
Power ON while simultaneously holding the [SHIFT] button until the text "SP4 bootloader vx.x".
Select the "System Reset" utility using the [Chan / Param] buttons
Press the [Next Value] button
When a message ask you, press the [Next Value] button to start the Factory Reset operation.
Warning! This operation will cause clear all user objects and restore the factory default state. Do not use this function unless you are certain that you want to do this. Hopefully the article of "Resetting Kurzweil SP4-8 88 Key Stage Piano" can help you.
Reference: Kurzweil SP4-8 manual