Resetting Korg Volca Bass Analog Bass Machine
|
Last Updated on June 20, 2022 by Nick
The Volca units come in three flavours, Beats (an analogue/digital drum machine), Bass (a three-VCO bass line synth) and Keys (another three-VCO synth, but with alternate voicing options, including pseudo-polyphony). the first of which to grab our attention was the Bass. Essentially, this is a hybrid unit; an analogue sound engine with digital control so dial tweaks and note info can be recorded into the sequencer/accessed over MIDI. Volca Bass was designed in Japan and built in Vietnam and has a 'full analogue signal path'.
According to several user reviews, they have praised Korg Volca Bass for the sounds as good as more expensive analogue synths; Super compact, well built, can be battery powered; Individual waveform selection and subtle detunes; Excellent three-part sequencer. Also, some users have complained it for no accent or motion control; No way to automate filter cutoff/resonance.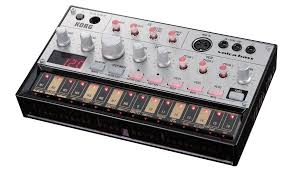 Image source:
korg.com
Factory Reset:
To restoring Korg Volca to it's factory settings, just simply power ON while simultaneously holding the FUNC and MEMORY until "LdPr" appears on the display, and the [REC] and [PLAY] buttons blinks. To execute the factory reset, press the [REC] button.

Warning! This operation will cause returning all sequence data to the factory defaults. Do not use this function unless you are certain that you want to do this. Hopefully the article of "Resetting Korg Volca Bass Analog Bass Machine" can help you.
Reference: Korg Volca Bass manual