Resetting Casio Privia PX-780 88 Weighted Key Digital Piano
|
The Privia line of digital pianos from Casio have been exquisitely designed and structured to fit the needs of almost any digital piano player. The new PX-780 represents a significant step in the continuing evolution of the Privia digital piano line. Its a Privia Digital Piano so it has all those great Privia features, like an 88-key, Tri-sensor scaled hammer-action keyboard with 'ebony and ivory feel' textured key surfaces. It also incorporates Casio's 'AiR Sound Source' DSP with 128-note polyphony. So, it sounds and feels like a grand piano. They offer qualitative products at a very reasonable price which is the unique feature of this company.
According to several user reviews, they said this Casio Privia PX-780 is ideal for Learning, great home piano, just playing because you love the feel and sound. Also, some users said it's not for you, if you want a digital piano that has a top end, luxurious enclosure or are wanting more music production or recording capabilities; You want something very portable that you can throw in the car or play on stage.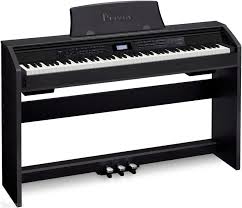 Image source:
gearnuts.com
Factory Reset:
To restoring Casio Privia PX-780 to it's factory settings, just simply power ON while simultaneously holding the [GM TONES] and [FUNCTION] buttons. The Factory Reset procedure is complete.
Warning! This operation returns all settings you've made in the menus to their factory-set condition. Do not use this function unless you are certain that you want to do this. This procedure also applies to the PX-350 unit. Hopefully the article of "Resetting Casio Privia PX-780 88 Weighted Key Digital Piano" can help you.
Reference: Casio PX-780 manual