Resetting Casio EXILIM EX-ZR800 Digital Camera
|
Casio announced the Exilim EX-ZR800, a compact camera with RAW format shooting abilities with multi-shot-based '5-axis image stabilization'. Camera dimensions 107.4 x 60.0 x 30.7 mm has a weight of 222 grams with a 3-inch color LCD screen that has a Super Clear LCD technology. Quality materials make the whole body of this camera feels solid when held so snugly in the hand. Casio EX-ZR800 comes with a compact design and sturdiness.
The resolution resultant of this camera is 640 x 480 pixels up to 4608 x 3456 pixels. This camera can produce images with JPEG and RAW. As for the video, this Casio camera capable of recording with a resolution of 1,920 x 1,080 pixels and 640 x 480 pixels with HD quality. MOV video format can be generated from this camera. Casio tether BSI CMOS sensor with a resolution of 16.1 MP in this new device. Supported Casio's Exilim Engine HS dual-CPU Ver.3 processors, this camera is able to produce the best quality images and displays images with vivid lighting, sharp, and accurate.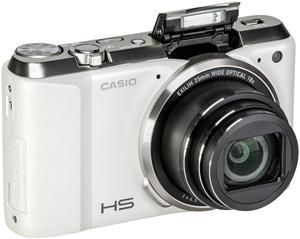 Image source: 
computeruniverse.net
Exilim EX-ZR800 also comes with a built-in flash memory of 50 MB. In addition, there is also the setting of ISO 100 to ISO 25600. Casio EX-ZR800 is equipped with a 18x optical zoom that can capture more detailed images. There is also a 36x digital zoom to increase the overall zoom. Features 5-axis image stabilization strong and capable of reducing noise blur on shots. There is no Wi-Fi feature in this device so you have to use a USB cable to move data. However, you will get a monaural speaker and a stereo mic for easy video recording.
Factory Reset:
To restoring Casio Exilim EX-ZR800 to it's factory settings, conform to the following instructions:
Turn on the camera, and then press the [MENU] button
Press the [</ dial left] button to highlight the tab
Press the [V/ dial down] button to highlight the "Setting" tab, and then press the [>/ dial right] button
Highlight "RESET" by use the [V/ dial down] button
Press [SET] button
Read also "Resetting Canon IXUS 255 HS 12.1 MP Digital Camera" and another user guides. Hopefully the article of Resetting Casio EXILIM EX-ZR800 Digital Camera useful for you.
Reference: Casio EXILIM EX-ZR800 manual