Resetting Casio CTK-7200 61-Note Portable Keyboard
|
The CTK-7200 is part of the new range of Casio digital keyboards and is stuffed full of high quality sounds and rhythms. The CTK-7200 offers same Casio quality you've come to expect from the CTK-7000 model before it, but offers extended performance functions, additional sounds and a new panel design. The CTK-7200 features a 61-key keyboard that is engineered to provide a realistic piano experience including piano-shaped, touch-sensitive keys, a high-output 2-way speaker system, mic input, great features and a stylish design.
The CTK-7200 sports 820 presets and 260 onboard rhythms to spark your creativity. And with its 61 piano-style keys, built-in pattern and song sequencers, DSP effects, tone editor, drawbars, 32-channel mixer, and arpeggiator, this powerhouse arranger makes it easy to transform your musical flights of fancy into finished tracks.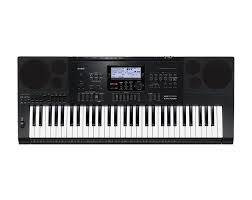 Image source:
woodbrass.com
Factory Reset:
To restoring Casio CTK-7200 to it's factory settings, first press the [FUNCTION] button to enter "Function" menu. Move the • to "General" by using the [>, ∨] buttons and then press [ENTER] buttons. Next, select "INITIALIZE" and press [ENTER] button. Finally, use the [∧, ∨] buttons to select "All" and press [ENTER] button to start initialization of the program.
Warning! This operation will return all of the CTK-7200's settings to their factory-set condition. Do not use this function unless you are certain that you want to do this. This procedure also applies to the WK-7600 unit. Hopefully the article of "Resetting Casio CTK-7200 61-Note Portable Keyboard" can help you.
Reference: Casio CTK-7200 manual