Resetting Canon EOS 60D Digital SLR Camera
|
Canon promises some new changes in the EOS 60D. Most noticeably changes compared with the previous series is the shape of its body. Canon shrink the size of the EOS 60D body. In addition, Canon also provides a swivel screen. This camera is the first EOS family be applying the screen like this. Canon adds the size of the sensor on the EOS 60D camera when compared to its predecessor. This time, the EOS 60D uses the image sensor at 18 megapixels. Previously, the EOS 50D uses a sensor of 15 megapixels. For the sensor itself, using a Canon APS-C CMOS. As for the processor, Canon instill 'DIGIC 4' on the EOS 60D.
Currently, several new cameras on the market are already using Full HD. Do not want to fall behind, Canon also incorporate these features in the EOS 60D. The EOS 60D is capable of taking video with quality 1920x1080p, with some choice of frame rates, such as 30, 25, and 24fps. As for the quality of HD video (1080x720p), you can choose the frame rates at 60 and 50fps. Standard The ISO on the EOS 60D is the same, which is 100-6400. Could still be improved The ISO up to 12800. For the autofocus (AF), Canon prepare a 9 point that is claimed to provide a more accurate focus. For the screen, Canon gives the screen that can be rotated with a large 3-inch or 7.7cm. The screen supports aspect ratio of 3: 2 and 1040k dot. With the screen that can be rotated like this, you can take pictures from a difficult angle.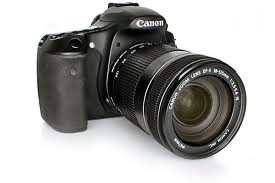 Image source: 
techhive.com
Factory Reset:
Put the Camera in Manual Mode
Press the Menu button
Scroll over to the third subsection of the third set of menu options.
Scroll down to the Clear all Camera Settings option by using the quick control dial
Click the Set button. Scroll over to the OK button and click Set button again.
When the factory reset has been completed, pull out the battery
Look in the battery compartment, and you'll see a little slider you can pull it.
Behind this slider are the backup-battery hidden. Take this battery out for at least an hour, replace the backup-battery, and the "normal" battery.
Warning! When you execute "Factory Reset", all stored settings will be erased and returned to the factory settings. Do not use this function unless you are certain that you want to do this. Hopefully the article of Resetting Canon EOS 60D Digital SLR Camera useful for you.