Resetting Behringer V-Amp Pro Guitar Multi Effects Processor
|
Last Updated on June 20, 2022 by Nick
A rackmount version of the V-AMP, the Behringer V-AMP Pro Modeling Preamp has amazing subtlety of tone and exact replication of 32 classic and modern amp styles. The V-Amp Pro provides exactly the same amp, speaker and effect facilities as the V-Amp 2, where patches may be stored in 125 preset locations (arranged as 25 banks of five) which come filled with factory settings that can be changed or replaced if required. 15 cab simulations can be mixed and matched with any amp. 16 editable high-end stereo effects include rotary speaker and wah-wah with optional MIDI pedal.
According to several user reviews, they have praised Behringer V-Amp Pro for the same good range of clean and dirty amp sounds as their forebears, the same strong effects, and the same great user interface; Comprehensive new I/O options. Also, some users have complained it for the compression still can't be added as an independent effect.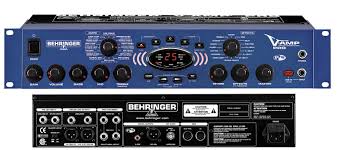 Image source:
audiofanzine.com
Factory Reset:
power ON while simultaneously holding the [D] and [E] buttons.
When "CL" appears in the displays release all buttons.
Finally, press the [BANK UP] and [BANK DOWN] buttons simultaneously.
Warning! When you execute this operations, all stored settings will be erased and returned to the factory settings. So be sure to back up any information you wish to keep. Hopefully the article of "Resetting Behringer V-Amp Pro Guitar Multi Effects Processor" can help you.
Reference: Behringer V-Amp 3 manual